You are here
Shelling intensifies in southern Syria, say residents of Jordan's border towns
By Omar Obeidat - Jun 19,2016 - Last updated at Jun 19,2016
Houses and wheat fields are seen in the village of Emrawah in this June 11 photo (Photo courtesy of Emrawah News Facebook page)
AMMAN — Residents of the Kingdom's northern towns say heavy bombardment in Syria's south by President Bashar Assad's regime has become more intense in recent days, adding that loud shelling can be heard every night.
"Bombing somehow subsided in April and early May. But now we sleep to the sound of shelling," said Mohammad Obeidat from the village of Al Rafid, some 100km north of Amman.
The village, which is part of Irbid Governorate, is just a few kilometres from Syrian towns in Daraa province like Tafas and Shajarah.
Musa Shtayyat, from the village of Aqraba in Bani Kinanah district, also said that shelling intensified over the last week, although the bombardment of areas in southern Syria has not stopped in almost six years.
"Hearing the sounds of bombing has become so familiar for most residents here," he said.
In some areas closer to the Syrian border, residents complain that heavy shelling sometimes shakes their homes.
In Ramtha city and surrounding villages such as Torrah and Emrawah, the sound of bombing is louder and more frightening than in other places in the north, residents say.
"It is really scary here. Sometimes we fear stray shells may hit our homes," said Ibrahim Drabseh from Torrah, which overlooks the city of Daraa in Syria.
He said that residents sleep and wake to the sound of heavy shelling, which he said has intensified recently.
"It is Ramadan. It is a holy month. Why don't Assad and his forces respect this month?" asked Um Alaa Darabseh, who said that she hopes to see the fighting end this year.
Abdullah Wardat, from Emrawah, said border towns are used to the sound of shelling, but it did not stop at the noise, recalling that last year some shells hit homes in Ramtha, killing and injuring several people.
Bombing has worsened this Ramadan and sometimes shakes houses in the village, said Wardat, a public sector employee.
In June last year, one person was killed and four others injured after "a stray bomb shell" from Syria's Daraa town hit a Ramtha house.
In the past two years, several stray mortar shells from the war-torn country have also hit several houses in the city of Ramtha, some 90km north of Amman, but caused no injuries.
Related Articles
Feb 14,2016
AMMAN — Some families in Ramtha living right on the border with war-torn Syria have started to move to the city centre to escape stray shell
May 05,2015
Intensified clashes between the Syrian army and the armed opposition on Syria's southern border with Jordan has become a nightmare for residents of Ramtha and other northern districts.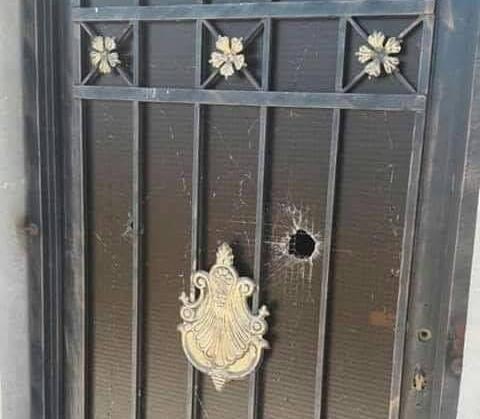 Jun 30,2018
RAMTHA/AMMAN — Residents of the northern town of Ramtha, some 80km north of Amman, have expressed deep concerns about the large-scale suffer
Newsletter
Get top stories and blog posts emailed to you each day.