You are here
Safadi talks with Tillerson over phone
By JT - Dec 12,2017 - Last updated at Dec 12,2017
AMMAN — Minister of Foreign Affairs Ayman Safadi on Monday discussed with the US Secretary of State Rex Tillerson over the phone the repercussions of the US decision to recognise Jerusalem as the capital of Israel, which Jordan considers a breach of the international law, the Jordan News Agency, Petra, reported on Tuesday.
Safadi briefed his American counterpart on the outcomes of the Arab foreign ministers meeting concluded in Cairo at dawn on Sunday, during which the officials stressed on a unified Arab stance to face the decision and called for its abolition.
Safadi discussed the anger the decision has sparked in the region and the world, stressing that the absence of political horizons and increased tension and frustration only serve extremists and their agendas.
The top diplomat emphasized the necessity of creating a political climate conducive for regional peace through efforts to implement the two-state solution in accordance with the agreed terms of reference and the Arab Peace Initiative, which call for establishing a Palestinian state with East Jerusalem as its capital within the lines of June 4, 1967, as the only way to achieve peace in the region.
Later, Safadi tweeted: "Spoke with Secretary Tillerson on fallouts of recognising #Jerusalem as Israel's capital. Informed him of Arab League stand against it as violation of Intl law Stressed 2-states solution only path 2regional peace. Only radicals benefit from growing tension, absence of horizons".
Safadi has been on the move over the past week, contacting his counterparts as part of Jordan's diplomatic push to neutralise the repercussions of the US decision and launch an international drive to support Palestinians exercising their rights to freedom and an independent state on their national soil.
The foreign minister has also talked to High Representative of the European Union for Foreign Affairs and Security Policy and Vice President of the European Commission Federica Mogherini, British Foreign Secretary Boris Johnson, German Foreign Minister Sigmar Gabriel, French Foreign Minister Jean-Yves Le Drian and Japanese Foreign Affairs Minister Taro Kono.
He tweeted on Monday: "Grateful to @FedericaMog for her firm stand in support of justice, peace, stability, moderation. Her words on #EU unity against moving embassies to #Jerusalem, on East Jerusalem as capital of Palestine, on commitment to two-state solution reflect integrity, true belief in peace".
Related Articles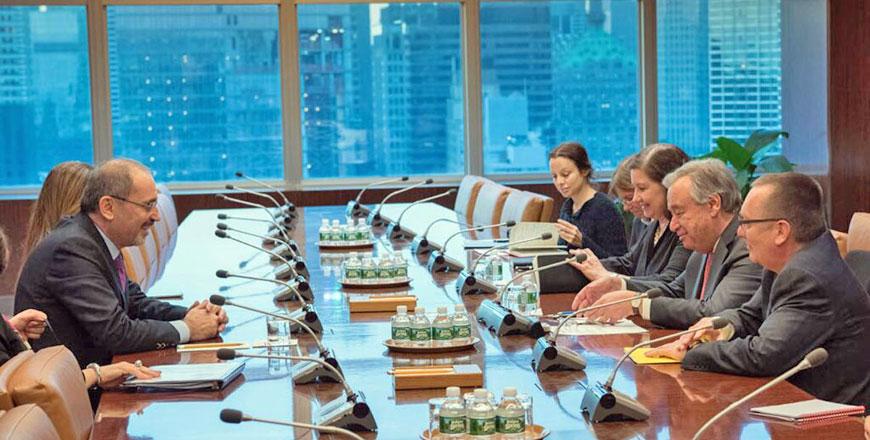 Jan 20,2018
AMMAN — Foreign Minister Ayman Safadi and UN Secretary General Antonio Guterres on Saturday discussed the Palestinian-Israeli conflict and t
Feb 14,2018
AMMAN — US Secretary of State Rex Tillerson said on Wednesday that work on a new Middle East peace plan is "fairly well advanced", stressing
Dec 05,2017
AMMAN — Minister of Foreign Affairs Ayman Safadi on Sunday discussed via a phone call with US Secretary of State Rex Tillerson regional deve
Newsletter
Get top stories and blog posts emailed to you each day.