You are here
Ryanair announces four new flights in preparation for winter tourism uptick
By Muath Freij - Apr 25,2019 - Last updated at Apr 25,2019
In this undated photo, a Ryaniar plane sits on the tarmac at Queen Alia International Airport. The company's CEO on Thursday announced four new winter flights to Jordan (Photo by Muath Freij)
AMMAN — Ryanair on Thursday announced four new routes to Amman and Aqaba for winter, citing an expected rise in the number of visitors to the Kingdom.
During a press conference held in Amman, the company's CEO Michael O'Leary said the flights would start in November and the new routes to Amman would fly from Malta, Germany's Memmingen and Greece's Thessaloniki, while a flight to Aqaba will fly from Milan Bergamo.
"In the last 12 months, we have grown very rapidly," he told reporters during the press conference that was held at the Prime Ministry in Amman on Thursday.
"We have a beautiful partnership. It is just the beginning because in tourism there is unlimited potential for how much value we can gain from this partnership," Jordan's Tourism Minister Majd Shweikeh said.
O'Leary added that Jordan was the fastest growing market for Ryanair at the moment.
"We see that you have a unique combination of stunning tourism sites and places of interest for tourists to come and visit thanks to the efforts of the Jordanian tourism board and the support of the government, now giving millions of Europeans an opportunity to travel [and] to solve the challenge of Jordan, which was how do we get to Jordan and how to get to Jordan at a low price," he said.
He noted that in the next 12 months, Ryanair expects to fly over half-a-million visitors to and from Jordan.
"The great news from the tourism perspective is that over 85 per cent of the passengers travelling with Ryanair to Jordan are all inbound visitors. We are bringing new people to Jordan and we are establishing Jordan as one of the more interesting new destinations across Europe as we see enormous coverage in the European media about visits to Jordan and the feedback we get from our customers about the hospitality they receive from people here," he added.
Commenting on the fact that Ryanair charges lower fares than most other airlines, he said that the money visitors save on flights would be spent in Jordan.
"What makes Jordan I think a very attractive tourist destination is the winter sunshine, but also the security. Jordan is well known... as having a very well and established reputation for being safe and a place where families can come and enjoy holiday," he added.
Related Articles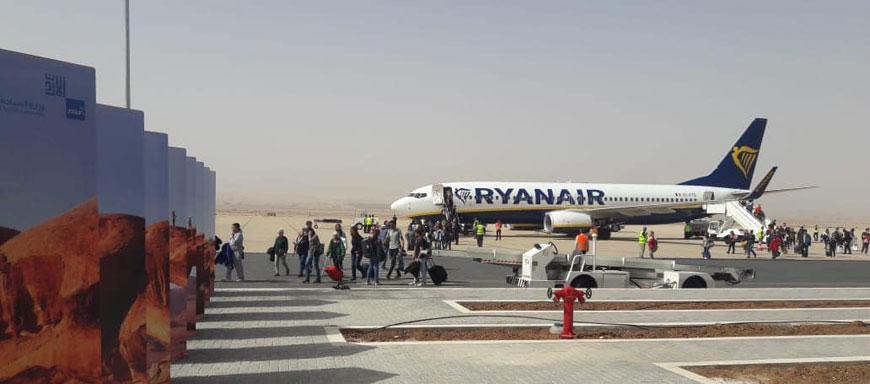 Nov 20,2021
AMMAN — Queen Alia International Airport in Amman (QAIA) and King Hussein International Airport in Aqaba (KHIA) on Saturday received 12 low-
Oct 04,2023
AMMAN — The dramatic events of September 11 and the invasion of Iraq directly affected the way humanitarian action has been conducted in the
Oct 28,2018
AMMAN — A low-cost Ryanair plane flying from Budapest landed at Queen Alia International Airport on Sunday, the first of 14 airlines which w