You are here
Royal directives to reopen schools, sectors with safeguards bring cheer to citizens
Gradual reopening of schools, sectors lead to economic recovery, say experts
By Bahaa Al Deen Al Nawas - Jan 13,2021 - Last updated at Jan 13,2021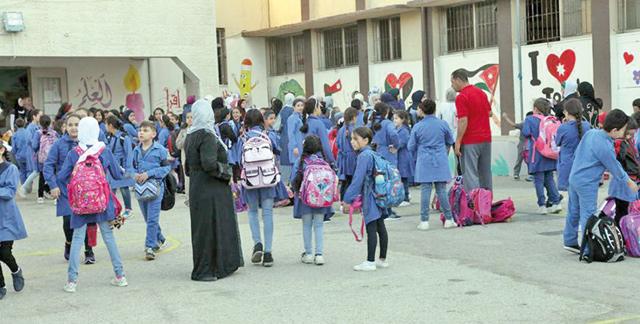 Calls have been mounting for the gradual return of in-class education as parents, teachers, and students have mixed feelings about the efficiency of online learning experience adopted by schools (JT file photo)
AMMAN — Teachers, parents and economic sectors' representatives on Tuesday welcomed His Majesty King Abdullah's directives to the government to reopen schools and sectors in a manner that protects public health and the national economy.
Rola Shalabi, a mother who spent her entire day helping her children access online platforms and keeping up with their lessons, said that His Majesty's decision will help her return to her normal life when her children go to school.
"I had to teach both my daughters how to use the Education Ministry's platforms simultaneously with several WhatsApp groups, making it very difficult to have time for anything else," Shalabi said.
She noted that many of her neighbours complained about how much time they spent supporting their children's education online compared to when they only had to follow-up with them after school.
"I am with reopening schools but under strict protective measures," Amal Abu Harb, a teacher at a school in Amman, told The Jordan Times on Tuesday.
Abu Harb said that she benefitted from distance education and developed new technical skills, but said she preferred face-to-face interaction in the classroom.
"Returning to schools will allow students to rely more on themselves rather than on their parents as was the case with distance learning," Abu Harb said.
She concluded that it is the duty of teachers, families and the students themselves to have sufficient awareness upon return to in-class education.
Ibrahim Zalloum, who is also a teacher in Amman, said that His Majesty's directives to reopen schools will ease the burden on many teachers and families who found it difficult to cope with remote education.
"While remote education worked for some people, many families and teachers suffered from technological issues and many students did not attend regularly, which could have increased drop-out cases. Now under the King's directives, we hope things will return to how they used to be," Zalloum said.
In regard to the commercial sector, Amman Chamber of Commerce President Khalil Hajj Tawfiq told The Jordan Times over the phone that "His Majesty's directives have soothed the economic sectors and provided hope, as they come at a time when the commercial and service sectors have suffered gravely due to lengthy closures and lockdowns".
"There is great commitment among citizens and the private sector to wearing face masks. The arrival of vaccines also brings hope," Tawfiq said, voicing appreciation of His Majesty for rekindling hope of a better future for the economic sectors.
Economist Husam Ayesh said that His Majesty's directives consider the facts and the needs of society.
"The directives should push the government to create programmes and plans that allow for a safe and gradual return of the educational and economic sectors, ensuring the highest levels of public health and safety," Ayesh said.
Ayesh further noted that the committees that will implement the Royal directives must balance between the economy on one side and public health on the other.
The directives align with the fact that vaccines have become available and they have started arriving to the Kingdom, the economist noted.
Newsletter
Get top stories and blog posts emailed to you each day.