You are here
Renewable sources to constitute 20% of energy mix in 2020
By Mohammad Ghazal - May 17,2016 - Last updated at May 17,2016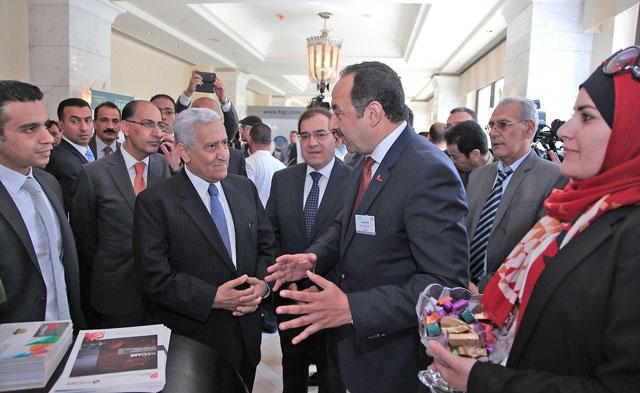 Prime Minister Abdullah Ensour speaks to participants at an energy conference in Amman on Monday (JT photo)
AMMAN — Jordan has attracted solar and wind energy projects worth $1.6 billion at a total capacity of 1,000 megawatts (MW), of which 500 MW will be connected to the grid by the end of this year, Prime Minister Abdullah Ensour said Monday.
The premier made his remarks at the opening of the Jordan International Energy Summit, where he said the renewable energy contribution to the overall power generation is expected to reach 20 per cent by 2020. It currently ranges from 3-4 per cent, according to official figures.
The Kingdom's consumption of electricity in 2015 stood at 18,689 gigawatt hours, compared to 17,764 gigawatt hours in 2014, marking a 5.1 per cent increase, according to figures released by National Electric Power Company (NEPCO).
At the event, Jordan signed several agreements including one with Algeria in the field of oil, gas and exchange of expertise and training in addition to another between NEPCO and the Jerusalem District Electricity Company on providing electricity to Jericho. Another agreement was signed with Al Manaseer Group to explore copper in the south of Jordan.
Under the deal with memo signed with Algeria, the country is expected to start providing Jordan with liquefied natural gas and liquefied petroleum gas as of September this year, Algerian Energy Minister Salah Khebri said (see story on page 3).
Jordan also signed an agreement with the Jordanian-Egyptian Fajr for Natural Gas Transmission and Supply to provide industries in Jordan with natural gas.
Tarek El Mola, Egypt's minister of petroleum and mineral resources, Egypt expects to resume natural gas exports to Jordan by 2021.
In his speech at the event, Ensour said Jordan has made strides in its efforts to implement a programme to build two nuclear reactors with 1,000 MW capacity each.
"The first rector is slated to be ready by 2023 and the second by 2025…We have made wide steps in logistic preparations as well as legal and technical agreements necessary to go ahead with the project," Ensour said at the event held under the patronage of His Majesty King Abdullah with the participation of 400 experts and officials from Arab and non-Arab countries.
According to Ensour, Jordan will produce 48 per cent of its electricity using nuclear power by 2025 once the project is implemented in cooperation with Russia's Rosatom.
The premier added that the country's first oil shale fuelled power plant at a total capacity of 470mw and a total investment of $2.2 billion will be ready by 2019, thus reducing energy costs. The available reserve of oil shale in Jordan, according to officials estimates, is around 70 billion tonnes.
He added that Jordan has adopted policies to increase energy efficiency and boost investments in the sector, stressing that Jordan places a heavy emphasis on the development of the sector, which plays a key role in the development of the economy and increasing living standards.
The premier highlighted Jordan's strategic location, stability and legislation as key factors to attract investments in the field.
Addressing the attendees, Minister of Energy and Mineral Resources Ibrahim Saif said the decline in crude oil prices helped reduce the country's energy bill to JD2.5 billion in 2015 or around 10 per cent of the country's gross domestic product.
"This is a significant decline when compared to the energy bill in 2014 that reached JD4.5 billion and accounted for 18 per cent of the GDP," said Saif.
Referring to plans to expand the grid's capacity, the minister said demand on electricity rises by around 6.5 per cent annually.
The minister added that several projects to produce oil from oil shale and generate electricity from oil shale are expected to start in 2018.
Saif also outlined Jordan's plans in the field of renewable energy and energy efficiency.
Participants in the two-day event are scheduled to discuss several issues in the field of renewable energy, gas supply, investments in the sector as well as projects in nuclear energy and oil shale, among other related issues.
Related Articles
Jun 15,2015
AMMAN – Jordan is set to see a brighter energy future by 2020, officials said Monday. Prime Minister Abdullah Ensour and Energy Ministe
Mar 02,2014
Starting 2018, Jordan's energy sector will start to reap the fruits of multibillion-dollar projects that entail producing oil locally and generating electricity using clean techniques, Energy Minister Mohammad Hamed has said.
May 22,2015
AMMAN — Energy-poor Jordan cannot rely solely on renewable resources to resolve its energy crisis and stem its rising power bill, which cons
Newsletter
Get top stories and blog posts emailed to you each day.