You are here
'Regional crises call for emergency education programmes'
By Dana Al Emam - Nov 30,2014 - Last updated at Nov 30,2014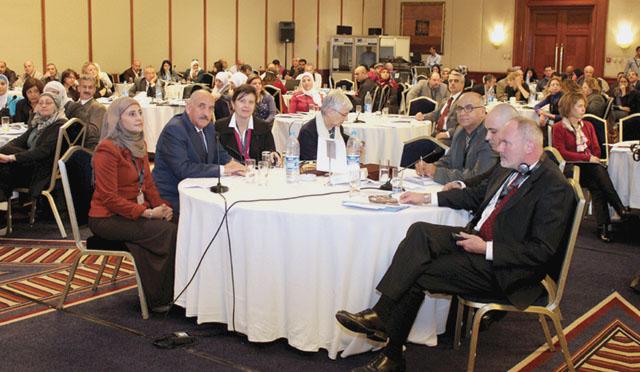 AMMAN — Political instability and internal conflicts in the region create an urgent need for developing quality-sustainable education programmes for emergency situations, experts said on Sunday.
Highlighting the role of education in post-crisis reconstruction, UNRWA's Education in Emergency Specialist Gabriel El Khili said it can help children and their families cope with the situation and develop hope for the future.
However, he underscored the need for "quality education, not any education", calling on all international donors and education ministries to strive to provide education that encourages creative thinking and innovation.
"UNRWA provides emergency learning programmes to children in crisis areas, such as Syria, that provide psychosocial support to the children and encourage them on self-learning and using innovative tools like the Internet," Khili told The Jordan Times on the sidelines of the Middle East Network on Innovative Teaching and Learning (MENIT) fifth regional workshop.
He called for all emergency-education stakeholders to "think outside the box" when planning strategies, but also follow international emergency standards.
Meanwhile, Education Minister Mohammad Thneibat said education in emergencies should also target refugee host communities, citing over 5 million children in the Arab world unable to go to school due to wars and conflicts.
"Donors' aid for educating Syrian refugees in Jordan should not only target refugee camps, as camps host some 26,000 students, while the ministry's public schools across the Kingdom accommodate over 130,000 Syrians, a number that increases each month," he said at the opening of the two-day event held by the German Development Cooperation (GIZ).
Thneibat noted that the ministry needs to open 72 new double-shift schools to accommodate some 48,000 Syrian students on its waiting list, adding that 99 public schools already use the double-shift system to provide Syrian children with education. Syrian students constitute around 12 per cent of the total number of students in public schools.
Thneibat noted that around 5,000 Iraqi children, who recently fled the turmoil in their country, have applied to enrol in public schools.
Underscoring the "timeliness" of the workshop, Irene Fellmann, development counsellor at the German embassy in Amman, noted that millions of children in Syria and elsewhere in the region cannot go to school.
She highlighted the topics on the workshop agenda, which include psychological support for students in emergency situations, mobilisation of teachers and training personnel as well as developing emergency education curricula.
Jordan, Palestine, Lebanon and Syria are members of MENIT.
Sophia Rimawi, an official at the Palestinian education ministry, said the Israeli occupation targets educational institutions, citing cases of killing and imprisoning students and teachers.
Joseph Younis, an official at the Lebanese ministry of education and higher education, said his country has adopted an emergency education plan as it has been witnessing political crises since 1975.
He added that Lebanon seeks to provide quality education for over 1.5 million Syrian refugees that fled to Lebanon, in addition to Iraqi and Palestinian refugees similar to that offered to local students.
Related Articles
Mar 13,2016
AMMAN — Over 200,000 students of 85 nationalities are enrolled at Jordan's public schools, Deputy Prime Minister and Education Minister Moha
Dec 16,2014
Despite financial constraints and overcrowding in schools across the Kingdom, UNICEF and the Education Ministry on Tuesday reiterated their commitment to ensuring that all children in Jordan are provided access to learning opportunities.
Oct 13,2014
The EU is committed to supporting Jordan's education sector and the integration of Syrian children into formal education, Štefan Füle, EU commissioner for enlargement and European neighbourhood policy, said Monday.
Newsletter
Get top stories and blog posts emailed to you each day.