You are here
Razzaz calls for economic, political bloc to advance Arab causes in int'l arena
PM addresses the fourth Arab Economic and Social Development Summit in Beirut
By JT - Jan 20,2019 - Last updated at Jan 20,2019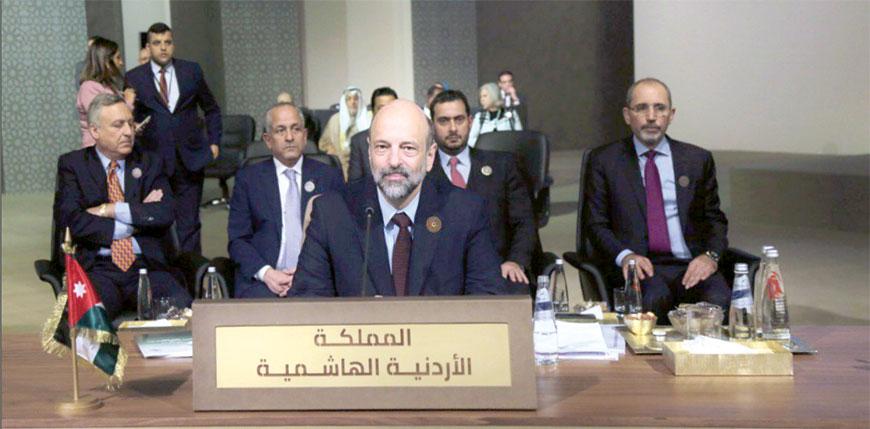 Prime Minister Omar Razzaz addresses the fourth Arab Economic and Social Development Summit in Beirut on Sunday (Photo courtesy of Prime Ministry)
AMMAN — Prime Minister Omar Razzaz on Monday said that the Arab Economic and Social Development Summit is held at a time when the Arab world encounters difficult economic and geopolitical conditions that require the highest levels of cooperation and coordination, to meet the challenges and achieve stability and prosperity for Arab countries and peoples.
Addressing the fourth edition of the summit, hosted in Beirut, the premier conveyed His Majesty King Abdullah's greetings to the participants and delivered his wishes of a successful session, affirming that the issues on the summit's agenda are among his top concerns, the Jordan News Agency, Petra, reported.
Razzaz congratulated Lebanese President Michel Aoun on his country's assumption of the summit's presidency, and expressed hope that the outcomes of the current session would contribute to boosting joint Arab action towards the realisation of Arab economic integration.
The prime minister also thanked Saudi King Salman Bin Abdulaziz Al Saud, whose country presided over the previous summit, for his efforts to achieve the goals of the last round of talks.
He also thanked Arab League Secretary General Ahmad Aboul Gheit for his efforts to implement decisions made at the Riyadh summit and to prepare for the current session, which constitutes an "important step towards strengthening Arab cooperation to attain common interests".
Razzaz said that the current climate of international alliances and regional conflicts, coupled with active economic blocs, has weakened individual states' ability to move forward or have an impact in any political or economic negotiation, necessitating joint and active Arab action.
He stressed the need for Arabs to hold on to their commonalities and let go of their differences, calling for an economic-political Arab bloc that can utilise human and natural resources to address regional and global issues in a way that serves Arab causes.
Razzaz also highlighted the importance of cooperation among Arab private sectors, which have a basic role in advancing the economy through increasing commercial exchange among Arab countries.
Security and stability are basic pillars of development that are largely absent in the Arab world, the prime minister noted, stressing the need for proactive efforts to resolve regional crises, foremost of which is the Israeli occupation of Palestine and ending it based on a two-state solution, leading to the establishment of an independent Palestinian state with East Jerusalem as its capital.
He affirmed the Kingdom's commitment to strengthening pan-Arab cooperation and joint action to achieve Arab economic integration.
On the sidelines of the summit, Razzaz met with his Palestinian counterpart Rami Hamdallah. The two ministers reaffirmed the "distinguished" ties between the two countries and stressed keenness to enhance trade exchange, according to Petra.
The premier also met with Sudanese Vice President Lt. Gen Bakri Hassan Saleh and discussed means of enhancing cooperation between the two countries.
Newsletter
Get top stories and blog posts emailed to you each day.