You are here
Queen Rania visits 'I Learn' initiative in Jerash
By JT - Feb 21,2018 - Last updated at Feb 21,2018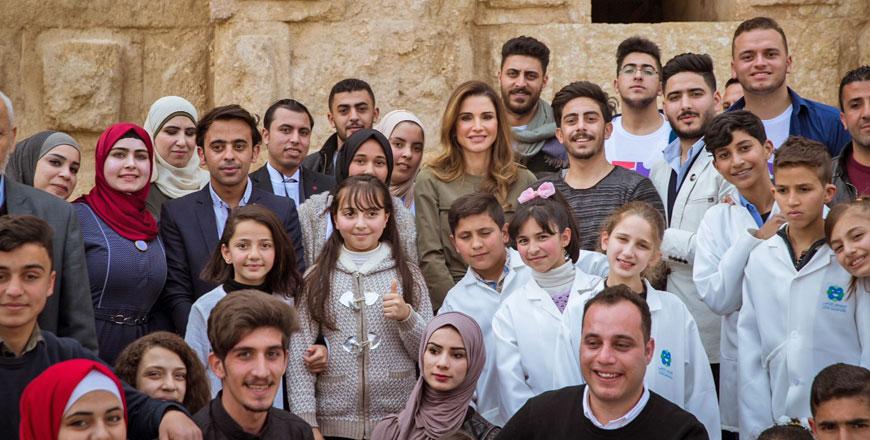 Her Majesty Queen Rania poses for a group photo with team members and beneficiaries of 'I Learn Jo: Space for Knowledge' at the Jerash Visitor's Centre on Tuesday (Photo courtesy of Royal Court)
AMMAN — Her Majesty Queen Rania on Tuesday visited the non-profit initiative, "I Learn Jo: Space for Knowledge" at the Jerash Visitor's Centre, a statement by Her Majesty's office said.
I Learn founder Saddam Sayyaleh and the initiative's team members briefed the Queen on the establishment of I Learn, its achievements and future plans.
Established in 2014, I Learn utilises a community-based approach to empower youth and children in various Jordanian communities and is currently operational in Jerash, Zarqa, Balqa, and Amman. Through informal education and support by youth volunteers and global partnerships, the initiative aims to establish safe learning spaces for Jordanian children that encourage innovation, intellectual growth and critical thinking.
Addressing Sayyaleh and his team, Her Majesty expressed pride in their accomplishments, telling them that innovative solutions stem from community-based efforts.
During the visit, Queen Rania also stopped by a number of I Learn sessions that were taking place, including an art class, a little paramedic workshop and a programming class.
The initiative works on connecting youth to educators in order to identify current and potential student dropouts and allow them to jointly create remedial and prevention programmes to deal with these cases.In addition, it aims to invest in youth volunteers and devise programmes that build their skills and prepare them for the job market.
I Learn focuses on three main programmes: youth support, child development and community engagement. Youth support relies on consultations with local youth to help identify their needs and develop customised programmes to realise those needs.
Child development uses art, recreational activities and academic support to develop children's self-esteem and creative capabilities.
Lastly, community engagement aims to work with the community to create safe and attractive learning spaces for children and youth.
Currently, I Learn has a partnership with Advise ME, a Jordanian advisory consulting firm, and is receiving support from the Swiss-based foundation, Drosos. The non-profit has reached over 10,000 Jordanians, including 2,200 children, 3,700 youth, and 5,100 community members.
Sayyaleh began pursuing social work upon travelling to India and volunteering at a non-profit organisation there. His experiences inspired him to established I Learn in order to empower Jordanian children. Sayyaleh is also an alumni of the Swedish Institute and a member of UNESCO Youth.
Related Articles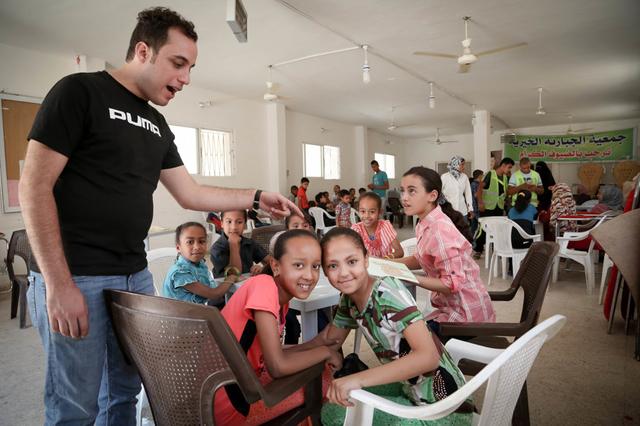 Sep 07,2017
AMMAN — Jerash-born Saddam Sayyaleh could have easily fallen off the grid after the orphan dropped out of school when he was a teenager.&nbs
Jan 15,2018
AMMAN — Her Majesty Queen Rania on Monday expressed her gratitude towards all Jordanian volunteers for "uplifting the nation with their pass
Mar 23,2017
AMMAN — To preserve Jordan's vast archaeological heritage, a sustainable preservation model focusing on vocational training in cultural reso
Newsletter
Get top stories and blog posts emailed to you each day.