You are here
Queen Rania visits Darat Samir Shamma for the Elderly
By JT - Jun 30,2014 - Last updated at Jun 30,2014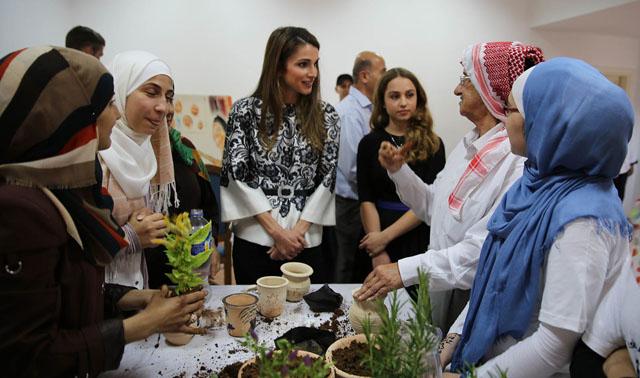 AMMAN - Her Majesty Queen Rania on Monday visited Darat Samir Shamma for the Elderly to check on the facility and to support young people who are volunteering as part of the Jordan River Foundation's (JRF) Volunteer Summer Programme.
Queen Rania, who was accompanied by HRH Princess Iman, started her visit at one of the society's apartments, where young volunteers joined the centre's residents in planting flowers and taking care of their garden.
The Queen was also accompanied by Ehab Mishaal, director of Darat Samir Shamma, Maha Shamma, board member of Darat Samir Shamma, and Muntaha Al Harasees, head of the JRF's Child Protection Programme, according to a statement released by Her Majesty's office
Queen Rania then checked on a number of residents in their apartments, and stopped by another group who were enjoying different activities such as making Ramadan decorations or playing table tennis, billiards, chess and foosball. Meanwhile, other residents were baking qatayef along with the volunteers.
Her Majesty also had the chance to speak to some of the elderly residents who were reminiscing about their life experiences, the statement said.
In addition, she listened to volunteers sharing their stories of working as part of the Volunteer Summer Programme being implemented by JRF's Queen Rania Family and Child Centre.
Towards the end of her visit, Queen Rania viewed paintings by one of the facility's residents.
A nonprofit society established by the late Samir Shamma in 2001, Darat Samir Shamma currently accommodates 36 senior citizens, 17 of whom were selected by the Ministry of Social Development.
It also has 42 staff members including in-house nurses and a visiting doctor, companions for the elderly and administration staff.
The society consists of a medical centre, an indoor swimming pool, a gym, library, prayer room, dining hall, laundry room, day club for the elderly, gardens and outdoor/indoor halls.
Related Articles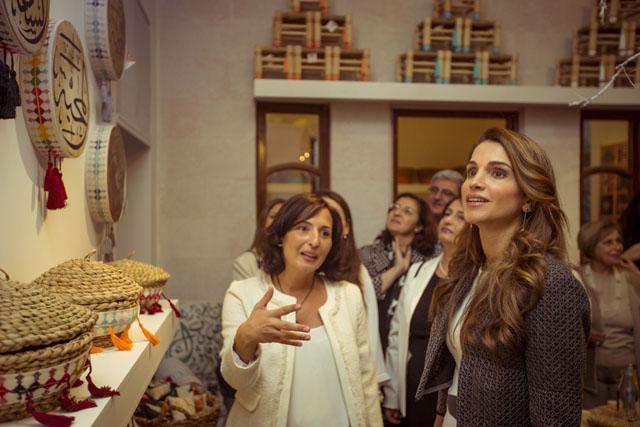 Oct 28,2014
Her Majesty Queen Rania on Tuesday visited the Jordan River Foundation's (JRF) 19th annual handicrafts exhibition titled "Musings of Traditional Jordan".
Oct 03,2016
AMMAN — Her Majesty Queen Rania inaugurated the Jordan River Foundation's (JRF) 21st annual handicraft exhibition, titled "Dahnoun", at the
Oct 25,2015
AMMAN — Her Majesty Queen Rania on Sunday visited the Jordan River Foundation's (JRF) 20th Annual Handicrafts Exhibition titled "H
Newsletter
Get top stories and blog posts emailed to you each day.