You are here
Premier announces positive outcome of Iraq visit
By JT - Jan 09,2017 - Last updated at Jan 09,2017
Prime Minister Hani Mulki meets with his Iraqi counterpart Haider Al Abadi in Baghdad on Monday (Petra photo)
AMMAN — Jordanian-Iraqi relations are advancing at an "excellent pace" and will be a model for joint Arab ties, Prime Minister Hani Mulki said on Monday, at the end of a visit to Iraq.
During talks with his Iraqi counterpart Haider Al Abadi, Mulki said that both sides recognised the importance of speeding up the implementation of the dual oil and gas pipeline between Basra and Aqaba, the Jordan News Agency, Petra, reported.
The premier described the project as "strategic" for both countries, as it will provide an export portal for Iraqi oil while also supplying the Kingdom with its oil needs.
Speaking to the press with Abadi after bilateral discussions, Mulki said that both sides agreed to draw up a general framework to reopen the Treibil border crossing soon, in a way that will serve trade and transport activities and the movement of people between the two countries.
He thanked Iraq for agreeing to implement an agreement that will see a joint committee consider a list of Jordanian products to be exempted from the 30 per cent customs duties Iraq usually levies on imports.
Iraqi authorities are also expected to allow imports to enter from other border crossings until the reopening of Karama-Treibil, Mulki said.
He noted that an agreement was reached to facilitate aviation activity, and to allow the Royal Jordanian Airline to increase the number of its flights to Iraq, with exemptions from customs and inspection fees.
The premier said that Iraqi authorities agreed to extend working hours at the Safwan border crossing with Kuwait, which is currently used by Jordanian exporters, and to allow 24-hour operation, in light of the closure at Karama-Treibil on the border with Jordan.
Mulki agreed with Abadi to hold a meeting soon between both countries' agriculture ministers to sign a memorandum of understanding to regulate the entry of Jordanian agricultural produce to the Iraqi market.
The premier praised a decision by the Iraqi government to extend until June 1 the grace period for Jordanian companies to register and re-register pharmaceutical products in Iraq, noting that Iraqi authorities promised to consider extending the period until the end of the year.
On bilateral discussions, Mulki said that talks focused on political and economic issues, as well as on the war against terrorism.
Mulki stressed that Iraq has a strategic importance for Jordan, and that Jordanian stances towards Iraq are based on respecting its sovereignty, the unity of its land and its security and stability. He added that the Kingdom supports all efforts by Iraq to safeguard these assets.
The premier also congratulated Iraq for "victories over Daesh and other extremist organisations".
It is hoped that Jordan will soon host an Iraqi delegation, as Mulki invited Abadi to visit Amman in order to continue the "positive momentum" between both countries.
Intelligence cooperation and information exchange forms a key part of relations between Amman and Baghdad, and is one which Jordan is determined to continue, the premier said.
Abadi said that Iraq's relations with Jordan are twofold: firstly, to serve mutual interests to reflect positively on both countries' peoples, and secondly, to confront shared challenges, such as terrorism.
He also said that Baghdad views the Basra-Aqaba oil pipeline as strategically important, and noted that in the next few days, a comprehensive programme to execute the project will be announced.
Accompanying Mulki on the one-day visit were Energy Minister Ibrahim Saif, Minister of State for Media Affairs and Government Spokesperson Mohammad Momani, Finance Minister Omar Malhas, Minister of State for Foreign Affairs Bisher Khasawneh, Minister of Agriculture Khaled Hneifat, Minister of Industry, Trade and Supply Yarub Qudah, Transport Minister Hussein Al Souob and several other officials.
Related Articles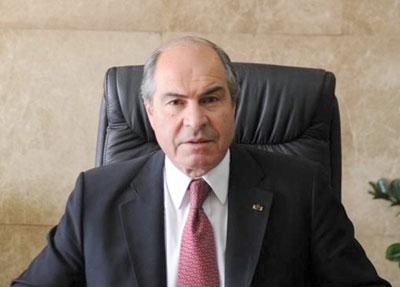 Jan 09,2017
AMMAN — Prime Minister Hani Mulki will head a ministerial delegation to Iraq on Monday, where he is scheduled to meet with his Iraqi counter
Oct 23,2017
AMMAN — His Majesty King Abdullah and visiting Iraqi Prime Minister Haider Al Abadi on Sunday discussed ties between the two countries,
Mar 27,2017
AMMAN — Prime Minister Hani Mulki on Sunday met with Iraqi Agriculture Minister Falah Al Luhaibi and an accompanying delegation to follow up
Newsletter
Get top stories and blog posts emailed to you each day.