You are here
Polish officials highlight benefits of opening Jordanian embassy in Warsaw
By Rand Dalgamouni - Apr 21,2014 - Last updated at Apr 21,2014
WARSAW — Half-a-century after the establishment of diplomatic ties between Jordan and Poland, there still remains a chance to enhance cooperation further if Amman opens an embassy in Warsaw, according to Polish officials.
"We are confident that opening an embassy here will be for the benefit of both countries," said Piotr Puchta, the director of the department of Africa and the Middle East at the Polish foreign ministry.
Puchta told Jordanian researchers and journalists who were in Warsaw on a recent study visit organised by the Polish embassy in Amman that Jordan's ambassador in Berlin Mazen Al Tal is the Kingdom's non-resident ambassador to Poland.
When Tal presented his credentials, "we expressed our belief that we need a Jordanian embassy in Poland," the Polish official said through an interpreter.
Highlighting the need to redraft and update some bilateral agreements between Amman and Warsaw, Barbara Cwioro — counsellor at the department of Africa and the Middle East — said having a Jordanian embassy in Poland will speed up these procedures.
Jordan and Poland have signed cooperation agreements in culture and education, and are scheduled to sign a security cooperation agreement this year, she noted.
Cwioro added that Tal had conveyed Jordan's willingness to study the possibility of establishing a diplomatic mission in Warsaw. She suggested that the Kingdom open a consulate instead of an embassy to save expenses.
Officials at the Polish ministry of economy and members of the senate's Polish-Jordanian parliamentary friendship committee also expressed similar views, citing the benefits of opening an embassy in enhancing cooperation.
"Jordan's ambassador in Berlin has promised to be available on a regular basis for anything in Poland, but this is not the same as having an actual embassy in Warsaw," said Hubert Królikowski, director of the offset programmes department at the Polish ministry of economy.
Commenting on the issue, Foreign Ministry Spokesperson Sabah Al Rafie said Poland is among the candidate countries to host a Jordanian embassy, but financial constraints have been hampering efforts to establish one.
"These financial limitations also stand in the way of opening a consulate in Poland. At present, our embassy in Berlin is covering Warsaw as well," Rafie told The Jordan Times over the phone.
His Majesty King Abdullah has also expressed the need to open an embassy in Warsaw, according to Polish Ambassador to Jordan Krzysztof Bojko.
"The idea of the establishment of a Jordanian embassy in Poland was already announced in 2004 during the [King's] visit to Poland," Bojko said in remarks e-mailed to The Jordan Times.
"I believe that the efforts of the King of Jordan and the Jordanian authorities will result in successful establishment of a Jordanian embassy in Poland. This event will be another milestone in our bilateral relations," he added.
Despite the close cooperation, officials at the Polish ministry of economy said there is still potential for expansion.
The trade volume between Jordan and Poland was around $72 million in 2013, with Polish exports accounting for some $71.4 million compared with $1.3 million in Jordanian exports, according to figures presented by the ministry.
Królikowski said his country seeks more balance in the trade volume, adding that Jordan should work more on promoting investment opportunities to Polish businesspeople and encourage more tourists to visit its attractions.
In 2012, 15,492 Polish tourists visited Jordan — a rise from 15,266 in 2011, according to World Tourism Organisation figures cited by the Polish ministry.
But tourist numbers were higher in previous years, reaching 35,805, 19,964 and 24,563 in 2008, 2009 and 2010 respectively.
"We are encouraging Jordanians to invest in Poland and also promoting Jordan to Polish investors," Królikowski said.
"We see Jordan as a strategic partner in the region and not just a market to promote our products."
Related Articles
Jun 11,2017
WARSAW — Poland is keen to attract visitors seeking medical treatment from the Arab world and is looking forward to increased cooperation wi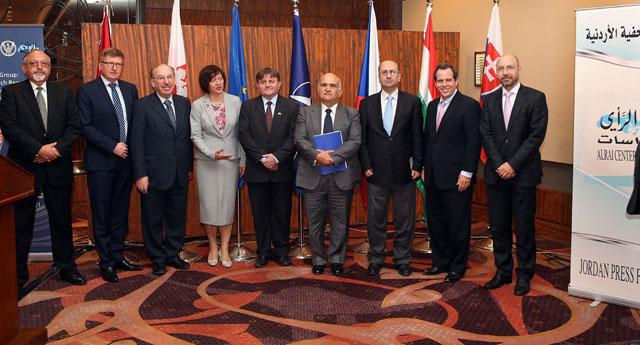 May 04,2014
Countries of the West Asia and North Africa (WANA) region have much to learn from the experience of the European Visegrad Group, HRH Prince Hassan said on Sunday.
May 23,2016
WARSAW — The "warm" relationship between Jordan and Poland, described by officials from both countries as "strong and historical", should be
Newsletter
Get top stories and blog posts emailed to you each day.