You are here
PM, sector representatives discuss virus impact on economy in virtual meeting
By JT - Apr 04,2020 - Last updated at Apr 04,2020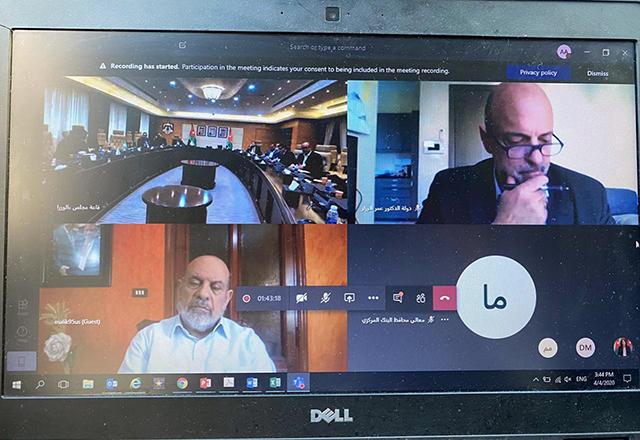 Prime Minister and Minister of Defence Omar Razzaz on Saturday held a video conference with representatives from the chambers of trade and industry, tourism, ICT and entrepreneurship (Petra photo)
AMMAN — Prime Minister and Minister of Defence Omar Razzaz on Saturday held a video conference with representatives from the chambers of trade and industry,tourism, ICT and entrepreneurship.
The meeting falls within a series of meetings held with various sectors to discuss the impact of the COVID-19 outbreak on the economy, the Jordan News Agency, Petra, reported.
The meeting discussed a set of measures and decisions to protect the national economy and the private sector to maintain job security and limit the damages sustained as a result of the coronavirus crisis.
During the meeting, attended by a number of ministers, the premier reviewed the results of studies analysing the concerns of employers and employees.
Razzaz noted that the impact of the coronavirus crisis can be divided into three possible scenarios: One that requires 60 days for economic recovery, the second requiring some 100 days and the third in which the country enters a cycle of chaos and requires a long period of time to recover.
The government is working hard in cooperation with the private sector to emerge from the coronavirus crisis with minimal damage, he stressed.
He noted that the related committees will continue cooperating and will hold intensive meetings during the upcoming period to come up with recommendations for maintaining minimal work in the private sector to ensure its sustainability and protecting the job security of employees in the sector.
During the meeting, the representatives of various sectors expressed their appreciation for the government's "understanding" of their demands, highlighting the importance of continuing the work of companies, as well as implementing public safety regulations when work resumes.
They also called for reducing electricity prices for factories, Petra added.
Newsletter
Get top stories and blog posts emailed to you each day.