You are here
PM admits government's 'administrative and moral responsibility' for Dead Sea tragedy
Razzaz warns against looking for 'scapegoats', vowing action against responsible officials
By JT - Oct 31,2018 - Last updated at Oct 31,2018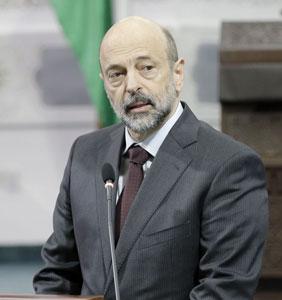 Prime Minister Omar Razzaz addresses MPs in Amman on Tuesday (Petra photo)
AMMAN — The government bears the responsibility for the tragic incident near the Dead Sea last week, Prime Minister Omar Razzaz said before the Lower House on Tuesday, the Jordan News Agency, Petra, reported.
Emphasising the need for a comprehensive investigation, Razzaz said his government should bear the "administrative, procedural and moral responsibility" for the incident, which left 21 people dead and dozens injured.
A total of 21 people, mostly schoolchildren, died last Thursday in flashfloods that swept over the Dead Sea area.
During a Lower House oversight session, Razzaz expressed his sincere condolences to all Jordanians; especially families of the Dead Sea incident victims and wished a speedy recovery to the injured.
The prime minister said that the government's responsibility during this critical moment is not to look for a "scapegoat" or a "punching bag", stressing that the government must investigate all details to identify responsibility "accurately", and to uncover any negligence or institutional defect to avoid reoccurrence of such a tragedy.
He also said that a successful state is not the one that does not commit a mistake, as "nobody is perfect", but it is one that does not permit these mistakes to occur again, urging for learning "moral lessons" and stressing that those responsible will be held to account.
Razzaz voiced his appreciation to all parties who helped in overcoming the tragedy, saying that ultimately the government is responsible over the tragic incident in the Dead Sea.
The Lower House also decided to form a committee to investigate the Dead Sea incident when 40 MPs requested a motion of no confidence in the education and tourism ministers.
Newsletter
Get top stories and blog posts emailed to you each day.