You are here
Petra among candidates for 'best cinematic destination' in online vote
By Dana Al Emam - May 16,2015 - Last updated at May 16,2015
AMMAN — The ancient Nabataean city of Petra is among the nominees for the best cinematic destination in a vote organised by USA Today, one of the best-selling newspapers in America and the world.
Petra, one of the New Seven Wonders of the World, currently ranks first on a list of 20 world locations, followed by Austria's Salzburg and Dyersville in Iowa, US.
USA Today — which says it has a circulation of 1.8 million and a readership of 3.1 million, while its sites have 26.3 million visitors a month — said a panel of cinematic tourism experts "hand-picked" the nominees, where TV shows and movies play a major role in the tourist scene.
The online vote (www.usatoday.com/story/travel/destinations/2015/05/13/10best-readers-choice-cinematic-destination-movies-tv/27240003/) is open until Monday, June 8 at noon Eastern Time (1600 GMT).
"Iconic TV shows and movies have launched a new era of tourism, one where fans make pop culture pilgrimages to walk in the footsteps of fictional characters at the very destinations where the most famous scenes were filmed," the newspaper said.
An individual is allowed to vote daily, according to the USA Today website.
Voters can also access the page through this link (www.10best.com/awards/travel/best-cinematic-destination/petra-jordan/).
In 1989, Steven Spielberg filmed "Indiana Jones and the Holy Grail" starring Harrison Ford in the rose-red city, 235km south of Amman.
More recently, Michael Bay shot scenes from "Transformers: Revenge of the Fallen" there in 2009, according to USA Today.
Commenting on the vote, Petra Development and Tourism Region Authority (PDTRA) Chief Commissioner Mohammad Nawafleh said the ancient city has been a filming destination for several foreign movies, especially those produced in Hollywood and Bollywood.
Indian films with scenes shot in Petra include "Krrish 3" and "Kajraare", according to the website Bollywood Presents.
"Millions have watched these films," Nawafleh told The Jordan Times on Saturday, describing Petra as a "masterpiece" with sites unparalleled elsewhere in the world.
He highlighted the PDTRA's efforts to promote Petra as a cinematic destination in international film festivals, including a recent visit to Cannes Film Festival and another in India to attract film producers.
Nawafleh noted that efforts to promote Petra as a tourist and a cinematic destination are integrated, as films shot in the rose-red city encourage viewers to visit the site.
The PDTRA chief commissioner expects Petra to qualify among the top 10 destinations, "if not the first", noting that the authority is working to encourage the public to vote for the city, which was listed as a UNESCO World Heritage Site in 1985.
"A couple of days ago Petra ranked second or third. Today it is number one, and we hope it remains so," he told The Jordan Times over the phone.
Petra was named one of the New Seven Wonders of the World in an online vote in 2007, in which around 100 million voters from around the globe took part.
An estimated 22 million votes were cast for Petra, which is known for its dramatic tombs and temple facades, including one that served as a church during Byzantine times.
The city's inhabitants, Nabataean Arabs, carved structures into the soft sandstone more than two millennia ago.
The once bustling city was the capital of the Nabataean Arabs, who controlled the trading routes that passed through Petra to Gaza in the west, Basra and Damascus in the north, Aqaba in the south, and across the desert to the Arabian Gulf.
The rose-red rock city was forgotten for centuries until Swiss explorer Johann Ludwig Burchhardt, disguised as a bedouin nomad, went into the city and rediscovered it in 1812. The ancient city was hidden behind an almost impenetrable barrier of rugged mountains.
Best Cinematic Destination
ALL NOMINEES
• Albuquerque
• Australia
• Berkshire, England
• Bruges, Belgium
• Dubrovnik, Croatia
• Dyersville, Iowa
• Las Vegas
• London
• Morocco
• New York
• New Zealand
• Paris
• Petra, Jordan
• Salzburg, Austria
• Santa Barbara
• Wine Country - Calif.
• Scotland
• Southern Tunisia
• Stockholm
• Thai Islands,
• Thailand
• Tokyo
Related Articles
Jul 13,2015
AMMAN — The rose-red city of Petra came in second in a recent international vote for the world's best cinematic destinations.Carried out by
Oct 06,2016
AMMAN — Albanian President Bujar Nishani and First Lady of Albania Odeta Nishani visited the ancient city of Petra, 235km south of Amman, on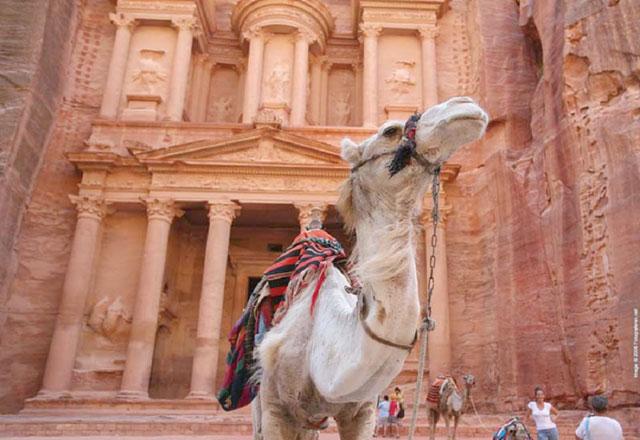 Mar 15,2015
Authorities are studying lowering entry fees to Petra for foreign tourists to encourage visitors stay in the ancient city, Petra Development and Tourism Region Authority (PDTRA) Chief Commissioner Mohammad Nawafleh said Sunday. 
Newsletter
Get top stories and blog posts emailed to you each day.