You are here
People with intellectual disabilities give out dates, water to Amman drivers
By Camille Dupire - Jun 12,2018 - Last updated at Jun 12,2018
A woman with intellectual disabilities takes part in a distribution of water and dates around Iftar time in Amman recently (Photo courtesy of Sana For Special Individuals)
AMMAN — Proving that everyone can give a helping hand in the spirit of the holy month, a group of people with intellectual disabilities has been distributing dates and water to drivers around the capital around Iftar (fast-breaking meal).
Organised by the local NGO Sana For Special Individuals under an idea by job coach Suhaib Hamadneh, the 8-day event was part of the organisation's regular events to raise awareness of people with intellectual disabilities in society.
"As a job coach for people with intellectual challenges, these distributions seemed to me like a great opportunity to transition from the work experience they received in our work programme to some kind of field work," recalled Hamadneh, who said that the group of participants only included older individuals from the work programme due to "safety and legal reasons".
"Every person with an intellectual disability was matched with a volunteer and we ensured a strictly supervised distribution, where all the parents and volunteers were fully aware of the requirements and conditions of the activities," he told The Jordan Times, explaining for instance that "we only carried out distribution when the traffic light was red and we received some cooperation from a civilian-clothed traffic police official".
Each water and dates package was accompanied by an awareness note reading: "I am a person just like you; what makes me special is that I have an intellectual disability and my society is better with your acceptance of me in it."
"We want to show that even someone with a disability can take part in doing good," said Serene Qubein Qushair, board member at Sana, stressing that "integration of our children into society — be it in schools, public areas or supermarkets — is a challenge, since our kids are often not accepted or are faced with pity or judgment. Raising awareness is an integral part in facing this challenge and helps create lifelong acceptance".
After distributing the dates and water at traffic lights, an annual tradition performed by volunteers across the Kingdom throughout the holy month, the group shared an Iftar meal together, celebrating a time of sharing and inclusivity.
Volunteer Ahmad Abdelhadi voiced his happiness to participate in this initiative, which he described as "a new and beautiful idea that gives us a simple way to show our support to people with special needs, and make them feel that they are like us in anything".
He said he was "surprised" to see so many drivers startled by the initiative. "People are not used to this kind of acts and they were very surprised to see us all distribute water and dates," Abdelhadi, who started volunteering after he heard about the idea from his friend Suhaib Hamadneh, told The Jordan Times.
Two groups of people took part in the 8-day distribution, which will conclude on Wednesday night, as the Eid Al Fitr holiday is expected to begin, marking the end of the fasting month.
"We separated the kids into two groups so that they are not away from their families every day. Some did the Friday, Sunday, Tuesday distribution while others did Saturday, Monday and Wednesday," Qubein Qushair, whose 9-year-old son Rakan participated, told The Jordan Times.
"Honestly, the smiles on their faces were there all along and they were so happy to take part in the distribution," Abdelhadi rejoiced after one donation, stressing "people with intellectual disabilities are our brothers and our friends and I really hope that such actions can contribute to supporting them in being fully integrated in society".
The event was made possible through the donations of IM Swedish Development, a partner of the organisation. "They paid for the bus picking up the group, printing our flyers and for the Iftar dinner for all," said Qubein Qushair, voicing her appreciation for the George and Sami Khoury company which provided the dates and water for free as well.
Founded in 2010, Sana For Special Individuals works to better the lives of families of children with intellectual disabilities by providing them with moral, financial and technical support, according to its board of directors.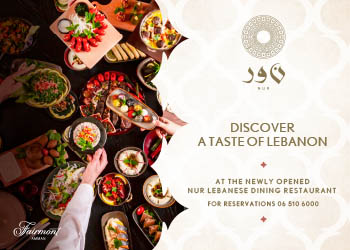 Newsletter
Get top stories and blog posts emailed to you each day.