You are here
Patrols to regulate selling, slaughtering of sheep across capital during Eid Al Adha
Amman municipality designated 12 locations to sell, slaughter sheep under supervision
By Hana Namrouqa - Aug 16,2018 - Last updated at Aug 16,2018
An average of 300,000-350,000 head of sheep are sacrificed each year during Eid Al Adha (Photo by Emily Nevils)
AMMAN — Joint inspection teams from the Greater Amman Municipality (GAM) and the Rangers are scheduled to patrol the capital's neighbourhoods during Eid Al Adha to prevent random selling and slaughtering of sheep, according to a municipal official.
Selling sheep during Eid Al Adha outside the locations which GAM designated as the official sites for selling and slaughtering sheep is illegal, said GAM health executive director and director of GAM's 2018 sacrifices project, Yasar Khitan noting that those who slaughter sheep within residential areas or in their backyards will face strict legal penalties.
By celebrating Eid Al Adha or the feast of the sacrifice, Muslims mark the end of a major ritual in Islam, the Hajj or the greater pilgrimage to Mecca. In Eid Al Adha, Muslims of sufficient means are required to sacrifice livestock in remembrance of Prophet Ibrahim's willingness to sacrifice his son Ismail to God.
This year, Eid Al Adha will start on August 21, while the key Hajj ritual, Arafa Day, will be marked on August 20, when millions of pilgrims ascend Arafat Mount from morning till sunset.
An average number of 300,000-350,000 head of sheep are sacrificed each year during Eid Al Adha, according to figures from the Ministry of Agriculture.
GAM recently announced 12 locations across the capital for selling and slaughtering sheep ahead of Eid Al Adha this year, according to Khitan, who noted that the sites were selected upon a study which took into consideration the locations' distance from residential areas, ease of access, environmental factors, and health and public safety requirements.
By designating specific sites for selling and slaughtering sheep for Eid Al Adha, GAM seeks to monitor the sanitary conditions of livestock before and after slaughter, the GAM official said, underlining that designating certain locations also helps contain the health and environmental impact of slaughtering several thousands of sheep.
The designated sites are prepared for the purpose of slaughtering sheep, he said, as the blood of the sheep after slaughter is collected in an underground barrel at each site to prevent disease outbreak, and health and environmental pollution.
Khitan added that 50 veterinarians will be present at the designated sites.
"Last year, we disposed of 17 tonnes of meat that showed to be unfit for human consumption. The veterinarians will monitor the livestock before and after slaughter," he concluded.
Khitan warned the public against slaughtering livestock in undesignated areas or private backyards during Eid Al Adha, noting that the practice causes the spread of diseases and environmental contamination.
He noted that the slaughter of sheep should only be carried out at municipal slaughterhouses and locations designated for the sale and slaughter of sheep and livestock.
"GAM future plans entail setting up mobile slaughterhouses for the period of Eid Al Adha and minimise the number of designated areas for the selling and slaughter of sheep. The plan seeks to allow people to carry out the religious ritual while addressing the health and environment aspects of the practice," Khitan highlighted.
Related Articles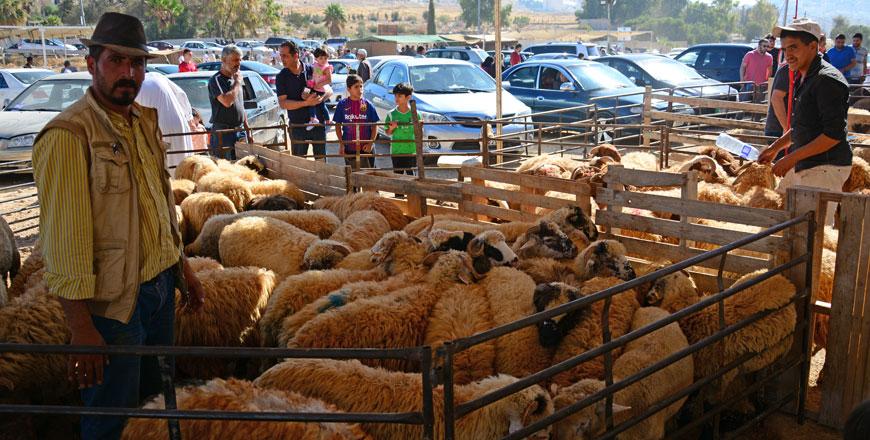 Aug 25,2018
AMMAN — Some 73,119 sheep were sacrificed during the Eid Al Adha holiday, an official at the Greater Amman Municipality (GAM) said.According
Aug 16,2017
AMMAN — The Greater Amman Municipality (GAM) announced on Wednesday 12 locations across the capital for selling and slaughtering sheep ahead
Aug 05,2017
AMMAN — The Greater Amman Municipality (GAM) has started locating places for selling and slaughtering sheep in different areas of Amman, ahe
Newsletter
Get top stories and blog posts emailed to you each day.