You are here
'Past experiences water down enthusiasm for polls among Ammanites'
Capital's voter turnout among the lowest nationwide, at 17%
By Mohammad Ghazal - Aug 16,2017 - Last updated at Aug 16,2017
AMMAN — The lack of an effective presence by political parties coupled with the lack of confidence among Ammanites in the elected persons and their seriousness to work for the public good represent the key reasons behind low voter turnout rate in the capital, pundits and residents said Tuesday.
Results by the Independent Election Commission indicated Tuesday that voter turnout in Amman for the municipal and first-time decentralisation polls stood at 17 per cent, which was not a surprise to analysts, who cited frequent low voter turnout in the capital throughout legislative elections as well.
"The voter turnout rate in Amman has historically been low and this reflects lack of Ammanites' confidence in elections in general and the seriousness of those elected to make desired change beyond their personal interests," Musa Shteiwi, director of the Centre for Strategic Studies (CSS), told The Jordan Times on Tuesday.
"Residents of Amman have a bad experience with the elected Lower House. They can see its performance and have lost faith in it and that applies to the current elections. But this is not right as they are sidelining themselves and not taking part in the decision-making process," he added.
Experts also added that existing political parties' weak performance eats away at enthusiasm for the polls.
"People in Amman have negative attitudes towards taking part in the polls. There are no effective political parties that can convince the city's population with their programmes and agendas to move to the voting stations," said Shteiwi.
Oraib Rantawi, head of Al Quds Centre for Strategic Studies, stated that it is a worldwide phenomenon to have a low turnout in capitals.
He cited people's dissatisfaction with services offered and policies as the reason for Ammanites not to vote, along with the fact that a big segment of the city's population lives in Palestinian camps, who are mainly served by UNRWA and so they might not have an interest in municipal services.
"For example, residents of refugee camps in and near Amman do not see significant services offered to them by local municipalities as this issue is mainly handled by UNRWA and this is a reason why they do not vote," Rantawi said.
"Ammanites do not have faith that those candidates are serious in implementing what they are talking about and that there will be no needs but merely slogans and words," said Rantawi.
The experts called for more efforts to focus on restoring confidence and enhancing participation in the political life in general, stating that the political parties need to be more engaged.
"This is not an easy or simple process. But there should be more work. The existence of political parties that work for the benefit of Jordan and Jordanians is crucial in this regard," said Shteiwi.
Providing more civil freedoms and translating good intentions and plans on the ground is fundamental in encouraging people to vote and see results and value for their work, added Rantawi
"In every election we discuss the same issue, it is time for serious solutions to have more people engaged in the decision-making process. Elections are a chance for the desired change and this opportunity needs to be seized," he said.
Mohammad Al Nasser, a resident of Shafa Badran, said he enjoyed the day off on Tuesday.
"I do not want to vote because I do not know anyone of those running in my area. This morning some people came to my house and they just threw some brochures and went away," he told The Jordan Times Tuesday.
"They did not even ask or discuss with me why I should vote. Candidates think that by posting their pictures in the streets people will know them and vote for them. I am simply not interested to vote and want to enjoy the day off" said Nasser.
Mustafa Deeb, a resident of Jabal Al Nasser in east Amman, echoed similar remarks.
"Candidates are begging citizens to vote for them and after elections they do not care at all. They will use their positions for their personal interests and those of their relatives and friends. I am not convinced that they are serious and can make a change," said Deeb Tuesday.
Related Articles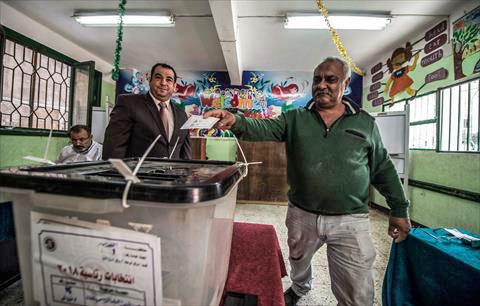 Mar 27,2018
CAIRO, Egypt — Egyptian authorities pressed for a high turnout on Tuesday on the second day of a presidential election designed to give Pres
Aug 15,2017
AMMAN — Security authorities have detained two suspects of circulating photos of ballot papers taken from the voting booth via social media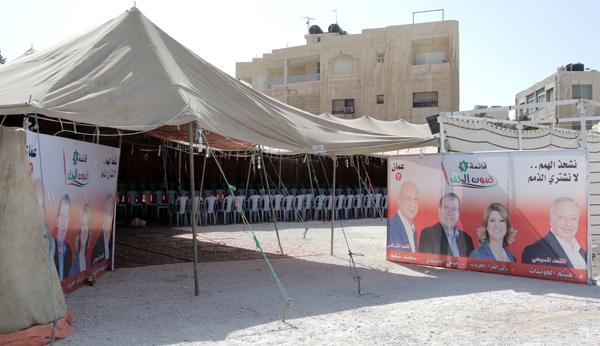 Sep 21,2016
AMMAN — Analysts on Wednesday reflected on the low voter turnout in Amman's 3rd District, an area with a high ratio of educated and politica
Newsletter
Get top stories and blog posts emailed to you each day.