You are here
Part of Wasfi Al Tal Street caves in
By Hana Namrouqa - Jan 20,2018 - Last updated at Jan 21,2018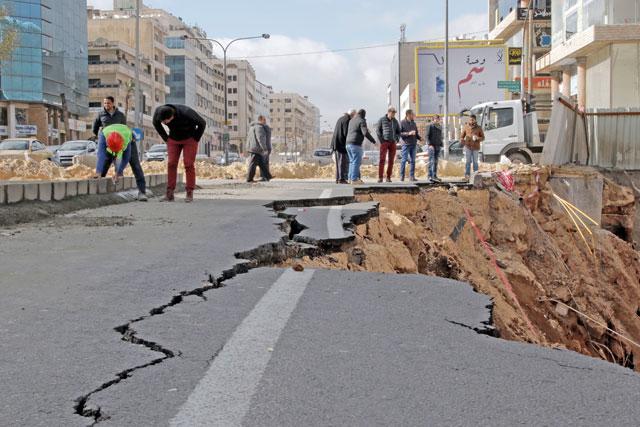 Part of Wasfi Al Tal Street (Gardens Street) next to a large construction pit caved in on Friday, prompting authorities to close that portion of the street to traffic as they started investigating the reason for this collapse, according to a municipal official (Photo by Osama Aqarbeh)
AMMAN — A detour will be in place on Wasfi Al Tal Street for at least two to three weeks following a road cave-in, a municipal official said on Saturday.
Part of Wasfi Al Tal Street (Gardens Street) next to a large construction pit caved in on Friday, prompting authorities to close that portion of the street to traffic as they started investigating the reason for this collapse, the official said.
The Greater Amman Municipality (GAM) and the Traffic Department closed the collapsed part of the street which takes traffic to Al Waha roundabout and announced a detour around the collapsed site.
"The detour seeks to ensure the safety of drivers and pedestrians on this vital and busy street," the municipal official, who preferred to remain unnamed, told The Jordan Times.
The closure of that part of Wasfi Al Tal Street Street is expected to last two to three weeks, the official said.
"GAM and the contractor of the project, which is a hyper market, are working out solutions to prevent similar accidents in the future and ensure the safety of people first and foremost," the official said.
A higher construction safety committee that entails representatives from different government and independent agencies has inspected the site.
"The committee is studying the case to determine the reason behind the collapse," the official noted.
The street collapsed in the aftermath of a strong depression and a polar front that affected the country on Thursday and Friday, bringing very strong winds and heavy precipitation.
Public Housing Minister Hani Halaseh, who is also the president of the National Building Council, checked on the collapse area, and called on the higher construction committee to look into the reasons for the collapse and the measures needed.
During the meeting, stakeholders provided the Greater Amman Municipality, which is responsible for issuing building permits, with guides on the procedures that have to be implemented by the contractor to fortify the area in order to avoid future collapses, the Jordan News Agency, Petra, reported.
Related Articles
Jan 22,2018
AMMAN — The Greater Amman Municipality (GAM) reopened Wasfi Al Tal Street (Gardens Street) on Sunday midnight, the Jordan News Agency, Petra
Jan 22,2018
AMMAN — Jordanian Engineers Association (JEA) President Majed Tabaa on Sunday said that "the construction project that caused the recent cav
Oct 19,2017
AMMAN — The Greater Amman Municipality (GAM) on Thursday announced that it will implement maintenance to rainwater drainage network and manh
Newsletter
Get top stories and blog posts emailed to you each day.