You are here
Ongoing Amman construction projects take toll on 1,000 businesses ­— ACC
By Bahaa Al Deen Al Nawas - Jan 26,2020 - Last updated at Jan 26,2020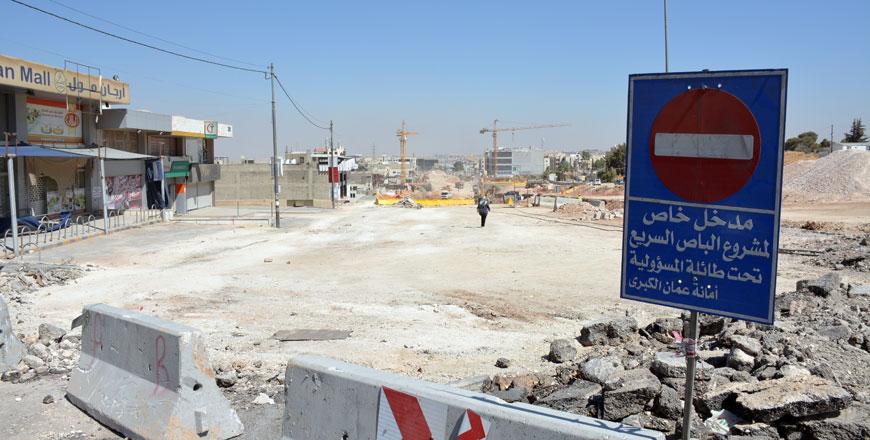 In Tabarbour, around 60 shops were closed due to the Bus Rapid Transit project, according to ACC President Khalil Hajj Tawfiq (Photo by Amjad Ghsoun)
AMMAN — Close to 1,000 shop owners, traders and merchants are bearing the brunt of construction projects taking place over eight different areas of the capital, according to the Amman Chamber of Commerce (ACC).
"In Tabarbour, around 60 shops were closed due to the project [Bus Rapid Transit], while in the Hurriyeh intersection around 40 shops were closed, which shows the damage the project is causing," ACC President Khalil Hajj Tawfiq said on Sunday.
He said the damage started before the BRT project, but increased and became more evident after the inception of the BRT.
"One thousand entities are being directly affected, while others are being indirectly impacted," Tawfiq told The Jordan Times over the phone.
Tawfiq added that last December, the ACC analysed the impact of a project being implemented by the Public Works Ministry in Marj Al Hamam and discovered that 100 shops were being affected.
The chamber collects data to assess the volume of damage, Tawfiq said, noting that it is working in accordance with a plan to address the cases of affected businesses.
The ACC also documents urgent cases and sends them to the court for summary proceedings, Tawfiq said.
Last December, the chamber announced that the Hurriyeh intersection project affected around 350 businesses in 30 commercial complexes, with a damage rate ranging between 30 and 100 per cent.
As for the case of the downtown traders who faced flooding in early January, Tawfiq said that the chamber is still waiting for the government's response to form an "objective committee" to look into their demands.
Over 100 shops and warehouses in Downtown Amman and four at the Seventh Circle were damaged during the heavy rainfall at the beginning of January.
At the time, Tawfiq said the chamber had urged the government to form a committee to investigate the matter.
Newsletter
Get top stories and blog posts emailed to you each day.