You are here
Non-Syrian refugees 'suffer even more' since Jordan Compact
Benefits reserved to Syrians, lack of work opportunities and discrimination pose great challenges to other refugee communities
By Camille Dupire - Sep 13,2018 - Last updated at Sep 13,2018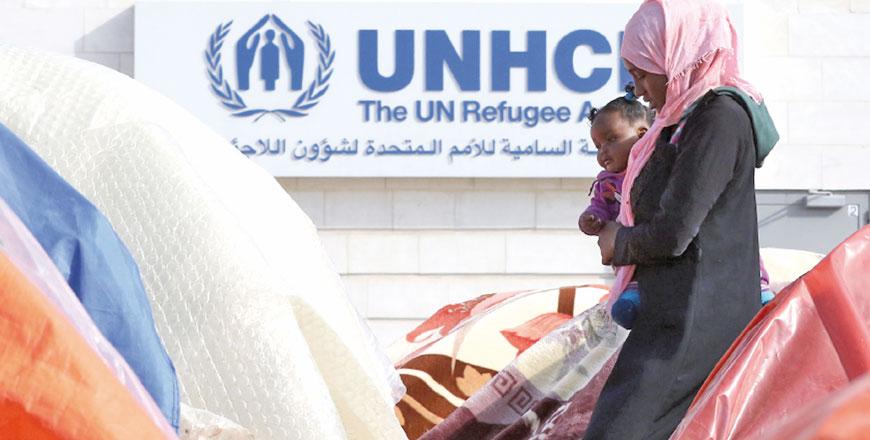 A Sudanese refugee from Darfur is seen walking past tents during an open-ended sit-in outside UNHCR in Amman in 2015 (AFP photo)
AMMAN — While the international community's attention has been mainly focused on the plight of the millions of Syrian refugees displaced since the onset of the crisis eight years ago, other refugee populations said they have been "suffering even more" than before, a recent report showed.
Published earlier this week by the NGO Refugees International (RI) under the title "Out Of Reach: Legal Work Still Inaccessible to Refugees in Jordan", the report indicated that "although the vast majority of refugees in Jordan are Syrian, tens of thousands of refugees from Iraq, Yemen, Sudan and other countries live in a difficult environment but are left out of most humanitarian assistance programmes aimed at Syrians".
Out of the 755,959 refugees registered in Jordan as of August 2018, over 11.3 per cent of them were from other countries than Syria, including Iraq for 8.8 per cent of them (66,971), Yemen for 1.6 per cent (12,194), Sudan for 0.6 per cent — most of whom from Darfur- (4,708) and other nations for the remaining 0.3 per cent (2,554), according to UNHCR figures.
For RI Senior Advocate Izza Leghtas, who conducted a number of interviews with refugee populations in Jordan throughout 2017, "refugees from sub-Saharan Africa face racism and discrimination because of their skin colour and are more easily identifiable when working informally than Syrian refugees".
"In December 2015, about 800 Sudanese men, women and children were deported from Jordan to Sudan after Sudanese refugees staged a protest against their dire living conditions and marginalisation in front of the UNHCR office in Amman," she said quoting a Human Rights Watch report, stressing that "as most humanitarian assistance programmes in Jordan target Syrian refugees, refugees from these other countries are largely left to fend for themselves".
Amina, a refugee from Darfur and mother of two young children, said: "From the colour of our skin, we suffer. There's no respect."
After her husband was deported back to Sudan in December 2015, she struggled even more to make ends meet and provide for her two children.
A situation also depicted by Ahmad, a journalist from Darfur living in Amman with his wife and two young children. "We can't provide our two children with basic food," Ahmad was quoted in the report as saying, describing "a very miserable situation here in Jordan".
While some non-Syrian refugees receive monthly assistance from UNHCR, they do not receive food vouchers from the World Food Programme, Leghtas highlighted, noting that this further compounds the many difficulties these populations face in terms of cost of rent, lack of medical insurance, and lack of financial assistance.
According to Aisha, a refugee from Darfur residing in Amman with her husband, the problem is also related to the lack of job opportunities for her and her peers.
"There are no opportunities to work or to study for Sudanese refugees, because you need a work permit and Sudanese people aren't allowed to work," she told RI, claiming "all opportunities for legal work and for studies go to Syrians."
She said that all that is available to Sudanese refugees is daily labour but "the work doesn't provide dignity and there is fear of the police because Sudanese people aren't allowed to work."
Ahmad agreed: "It's hard to live in dignity here. […] There is no work permit, and if you find a job, the employer exploits you and treats you like you're a servant."
He continued: "There is a lot of racism because of ignorance," recounting how some of the neighbours throw trash outside of their home "like you're not a person".
For Leghtas, "refugees from sub-Saharan Africa are more identifiable as being non-Jordanian because of their skin colour; they are therefore at higher risk of being stopped by the police," adding "racism and bullying of Sudanese children at school has also been raised as a serious concern by organisations assisting Sudanese and other non-Syrian refugees in Jordan."
In a report titled "Sheltering in Amman" in November 2017, the Mixed Migration Platform indicated "such unease about leaving their homes reinforces not only the physical, but also the social isolation felt and frequently expressed by Sudanese refugees… who also lack personal connections in Jordan."
According to a humanitarian worker in Amman, the accumulation of these challenges has caused great damages to non-Syrian refugees, not only materially but also mentally.
"Their mental health is deteriorating and there are very few resettlements for everyone, Syrian and non-Syrian," the representative said under condition of anonymity, explaining "when they come here, they do jobs like cleaning, carrying things. It affects their health a lot."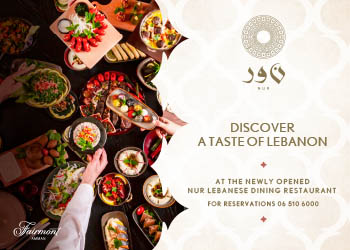 Newsletter
Get top stories and blog posts emailed to you each day.