You are here
No shortages in fuel despite rise in demand — association
By Dana Al Emam - Jan 26,2016 - Last updated at Jan 26,2016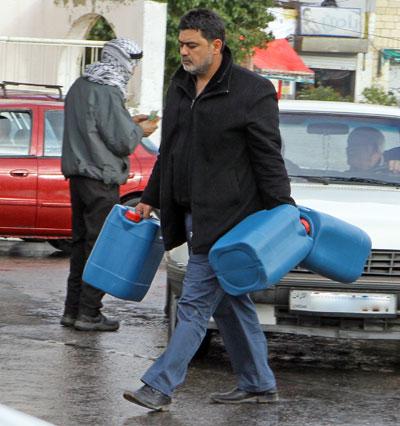 A man carries gallons to fill them with kerosene earlier this week in Amman to prepare for the cold weather (Photo by Hassan Tamimi)
AMMAN — Preparations of gas stations for the snowstorm this week prevented supply shortages despite the "over average" demand, said Gas Stations Owners Association President Fahed Al Fayez.
Precautionary measures entailed gas stations across the country to increase the volume of stored fuel products, Fayez said, noting that consumers' complaints were "individual" and did not become a "phenomenon".
In a phone interview with The Jordan Times on Tuesday, he said the demand on gas cylinders over the past five days reached around 10 million, while around 10,000 tonnes of kerosene were sold for heating purposes.
"All fuel products were available to address the ordinary and the extraordinary demand," Fayez said.
Meanwhile, he said conflicting forecasts of the depression, which started affecting the country earlier this week, confused buyers.
The Industry, Trade and Supply Ministry issued 52 tickets over the past three days, including one to a gas station for the lack of kerosene supplies, according to a statement carried by the Jordan News Agency, Petra.
Seven other tickets were issued to bakeries for the lack of Arabic bread, with the remaining violations recorded at grocery stores for not declaring prices and hiking food prices.
The statement quoted the ministry's spokesperson, Yanal Barmawi, as saying that the ministry's inspection teams intensified field visits to guarantee the availability of goods, adding that the campaign will continue for the few coming days.
He said the ministry receives complaints through its smartphone application and on 06/5661176.
Related Articles
Jan 23,2016
AMMAN — Demand for food supplies increased over the weekend despite government assurances that there are enough supplies ahead of an expecte
Jan 05,2015
The demand for oil derivatives has skyrocketed as consumers prepare to stay warm during the impending snowstorm, benefiting from the recent drop in fuel prices, a sector leader said Monday.
Jul 23,2015
AMMAN — Fuel prices are expected to drop on August 1, mirroring the decline in prices of Brent crude, the global oil benchmark, an informed
Newsletter
Get top stories and blog posts emailed to you each day.