You are here
'No Israeli troops, no chemical weapons in Eager Lion'
By Khetam Malkawi - May 27,2014 - Last updated at May 27,2014
AMMAN — The "Eager Lion 2014" military training drill has kicked off this week in Jordan with no Israeli troops taking part or chemical weapons, organisers asserted.
Speaking at a joint press conference in Amman on Tuesday, Director of Joint Military Training at the Jordan Armed Forces Brigadier General Fahed Damen and Director of Exercises and Training and the US Central Command Maj. Gen. Robert Catalanotti said that 12,000 army personnel from 20 countries are taking part in the exercise in its third edition.
The training that started on May 25 will end on June 10, and aims at strengthening military cooperation and coordination between participating countries,Gen. Damen said.
He added that the training is an opportunity to develop relations between the participating countries with ground, air and marine forces that are taking part in the drill.
"This drill is part of a recurrent planning and it has nothing to do with what is taking place in the region", Gen. Damen said in response to questions by the press associating the drill to the regional turmoil.
Gen.Damen also noted that training on protecting the borders is part of this year's drill.
He explained that despite the increase in penetrations on borders, forces are doing a "great job".
"We saw cases of penetration but we will use, if necessary, any kind of power to protect our borders".
Meanwhile Maj.Gen. Catalanotti said: "We have brought equipment with us and when we leave for the US we will take everything back … Nothing will stay from what we have brought."
He added that preparations for Eager Lion 2015 have already started, as the process customarily takes 13 months.
The US army official also referred to the drill as an investment, noting that the cost of hosting the drill is paid by Jordan, US and other participating countries.
"This exercise is an investment. The best investment we can do," he told reporters.
In response to a question on the use of chemical weapons in the exercise, Gen. Damen said: "No chemical weapons were used in 2013 and 2014, only training on how to deal with chemical agents".
Related Articles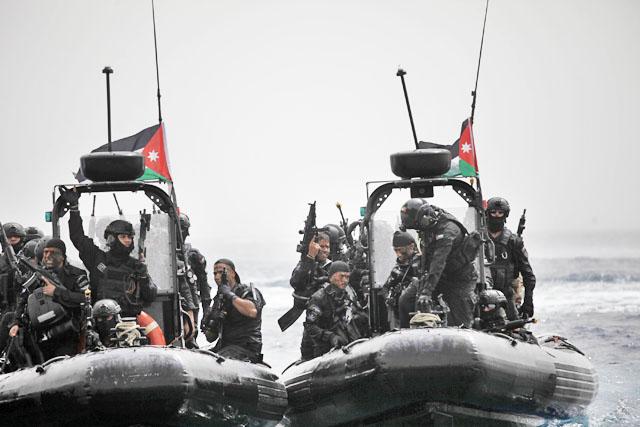 Jun 05,2014
Flying over the Jordanian desert, F-16 fighter jets shattered targets in the sand while tanks rolled across the battlefield and special forces fired anti-tank missiles in a war simulation to regain control of international borders.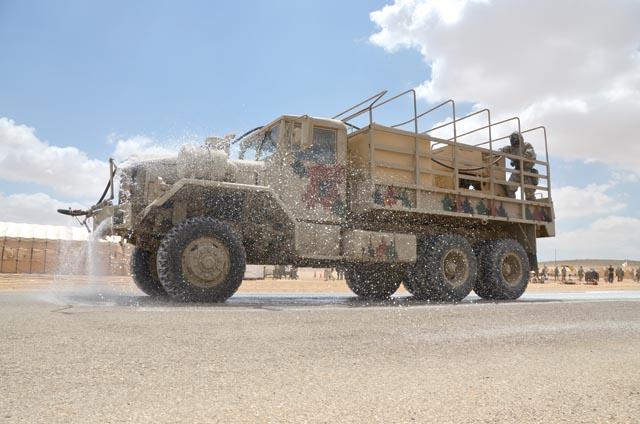 Jun 02,2014
Jordan and United Arab Emirates special forces tested on Monday their abilities to respond to chemical attacks on a fictitious dried-out tent city in the Kingdom's desert plain amid a 15-day military exercise involving combined land, air and sea manoeuvres across the country.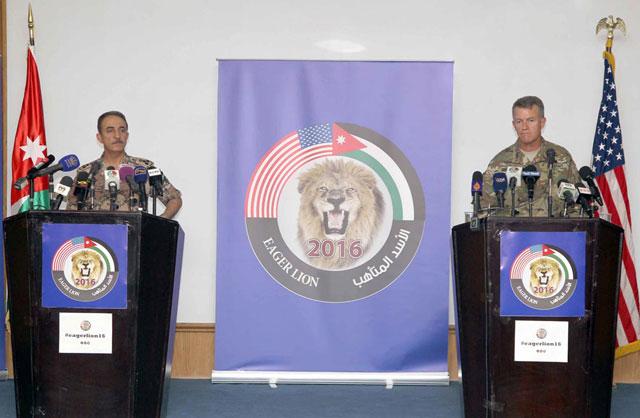 May 15,2016
AMMAN — The "Eager Lion 2016" began on May 15 and concludes on May 24, as announced in a press conference held Sunday at the Joint Special O
Newsletter
Get top stories and blog posts emailed to you each day.