You are here
New training facility boosts Jordan's status as 'counter-terrorism hub'
By JT - Mar 22,2018 - Last updated at Mar 22,2018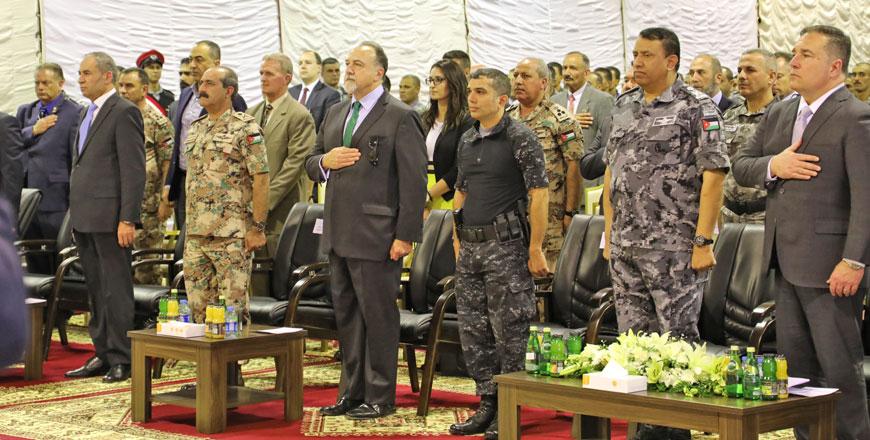 HRH Prince Rashid, US diplomats and top officers attend the launch of a training facility south of Amman on Thursday (Photo courtesy of US Embassy)
AMMAN — The government and the US State Department on Thursday inaugurated a training facility south of Amman that aims to double the Kingdom's capacity in counter-terrorism training.
Constructed and fully funded by the Department of State's Anti-terrorism Assistance programme (ATA), the centre, dubbed the Jordan Gendarmerie Training Academy, will provide essential training in crisis response, explosive incident counter-measures, post-blast investigations and tactical medicine, according to a statement from the US embassy.
"For 30 years, the Government of Jordan has proven itself a steadfast partner of the ATA programme and has contributed significantly to US efforts to advance the counter-terrorism capabilities of law enforcement agencies in the region," the statement read, adding that the ATA has conducted training for Jordanian police and their counterparts from 21 other countries in the Kingdom, described as a "regional hub" for counter-terrorism efforts.
Founded in 1983, the ATA has since trained 84,000 foreign security and law enforcement personnel from 154 countries in fields such as bomb detection, border control and airport security, aiming to enhance the skills of foreign law enforcement to protect citizens, as well as Americans abroad during crisis, according to web sources.
In July of 2008, the Jordanian International Police Training Centre, which functions under the Public Security Directorate (PSD), began serving as a regional training location for the ATA, according to the ATA report in 2016, which noted that 456 law enforcement personnel benefitted from counter-terrorism training as part of the Jordan programme that year.
Before the official launch of the Jordan Gendarmerie Training Academy on Thursday, a group of police officers from Tunisia conducted drills storming rooms in the centre earlier this week, according to The Associated Press.
"The ATA programme continues to contribute greatly to the security of our nation, our partners worldwide, and overall international peace and stability," the statement concluded.
HRH Prince Rashid, US Assistant Secretary of State for Diplomatic Security Michael T. Evanoff, Chargé d'Affaires at the US Embassy in Amman Henry T. Wooster and Jordanian Gendarmerie Director Maj. Gen. Hussein Hawatmeh attended the ceremony on Thursday.
Newsletter
Get top stories and blog posts emailed to you each day.