You are here
National School Feeding Programme supports nearly 520,000 vulnerable Jordanian, refugee children
Programme sustains livelihoods of farmers, creates jobs through community-based kitchens  
By Mays Ibrahim Mustafa - Sep 25,2023 - Last updated at Sep 25,2023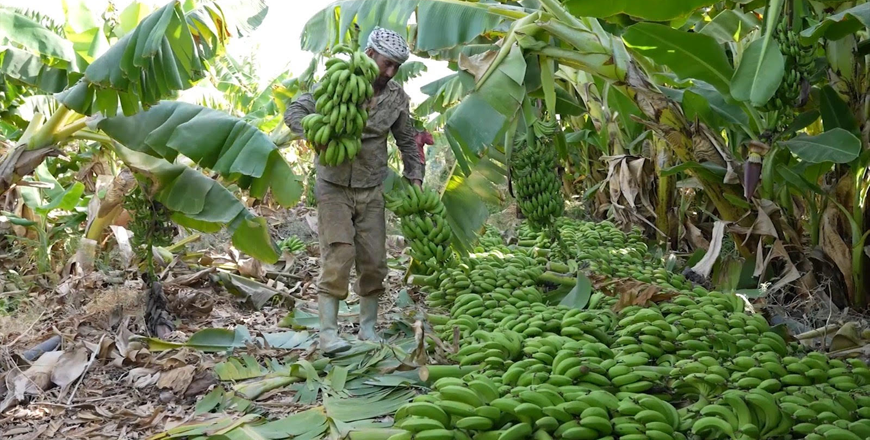 The National School Feeding Programme's 'locally driven' approach supports the livelihoods of nearly 300 local farmers across 16 farms, 90 workers across five local bakeries, 90 local transporters, along with the workers at the community-based kitchens and their families, according to an official (Photo courtesy of WFP)
AMMAN — Nearly 520,000 vulnerable Jordanian and refugee children, aged five to 11 years, are benefiting from the National School Feeding Programme implemented by the World Food Programme (WFP) and the Ministry of Education.
The Jordan Times on Tuesday accompanied the WFP on an exclusive media tour to learn firsthand about the programme and its impact on local communities.
Senior Programme Associate at WFP and the School Feeding Activity Manager, Khaled Ayyoub, said that WFP in Jordan has been committed to supporting the implementation of the National School Feeding Programme since 2013.
The programme involves providing approximately 430,000 children across all 12 governorates with fortified date bars and high-energy biscuits. It also delivers daily balanced and nutritious meals for around 90,000 children in impoverished regions across six governorates, including Madaba, Balqa, Mafraq, Irbid, Karak and Tafileh, according to Ayyoub.
He further explained that these meals comprise locally sourced pastries, vegetables and fruits. They are also prepared and packaged at 11 community-based kitchens that adhere to international food safety standards, and employ approximately 250 local women, who are registered under the social security umbrella and trained in food handling, safety and hygiene protocols.
Ayyoub pointed out that the positive impact of this school feeding model extends beyond the targeted children and their immediate families.
Its "integrated" and "locally driven" approach supports the livelihoods of nearly 300 local farmers across 16 farms, 90 workers across five local bakeries, 90 local transporters, along with the workers at the community-based kitchens and their families, he said.
Ahmad Masaafeh, spokesperson of the Ministry of Education and director of the Directorate of Public Education, noted that this programme comes in line with the endorsed National School Feeding Strategy (2021-2025).
He also highlighted its significance in supporting the livelihoods of local communities in addition to enhancing food security and nutrition in the Kingdom.
Suad Abdallah, a mother of four, has been working at one of the programme's community-based kitchens in Madaba for three years. "This opportunity helped provide me with a stable source of income that allowed me to put my daughter through college," she told The Jordan Times.
Ayyoub noted the importance of collaborations with non-state partners to enhance the sustainability of the programme and expand its reach.
One of the non-governmental partners involved in the national school feeding programme is the Royal Health Awareness Society (RHAS), a Jordanian non-profit organisation.
Director of programmes at the RHAS, Mahmoud Nabulsi, affirmed that enhancing the health and nutrition of school children in Jordan is a national responsibility that can only be fulfilled through collaborative efforts among public, private, and non-governmental organisations.
He also noted that all food items delivered through the National Feeding Programme are subject to the standards of the Food and Drug Administration (FDA), and all workers at the community-based kitchens carry health certificates. Additionally, food technologists are hired to ensure that bakeries involved in the programme adhere to health and safety standards, according to Nabulsi.
He added that the programme will also work on incorporating a plan to deliver awareness-raising messages for both children at targeted schools and their parents to promote healthy eating habits.
The tour included a visit to Aisha Umm Al Momineen School in Madaba, which includes approximately 900 students who benefit from the programme.
The school's principal Jumana Tarman said that the national feeding programme was able to provide children in less fortunate regions with one of their "most basic rights", and that is a healthy and balanced meal.
Related Articles
Sep 04,2019
AMMAN — Her Majesty Queen Rania marked the start of the new school year with a visit to Dulayl in Zarqa Governorate on Wednesday, where she
May 19,2015
Her Majesty Queen Rania on Tuesday checked on the Healthy Kitchen project at the Mamounieh Al Gharbieh Secondary School in Madaba. 
May 15,2017
AMMAN — Her Majesty Queen Rania chaired the Royal Health Awareness Society's (RHAS) annual board of trustees meeting on Monday during a visi