You are here
Mulki's gov't survives no-confidence vote
Premier tells lawmakers he would carry on with policies to salvage economy, 'away from populism'
By Raed Omari - Feb 19,2018 - Last updated at Feb 19,2018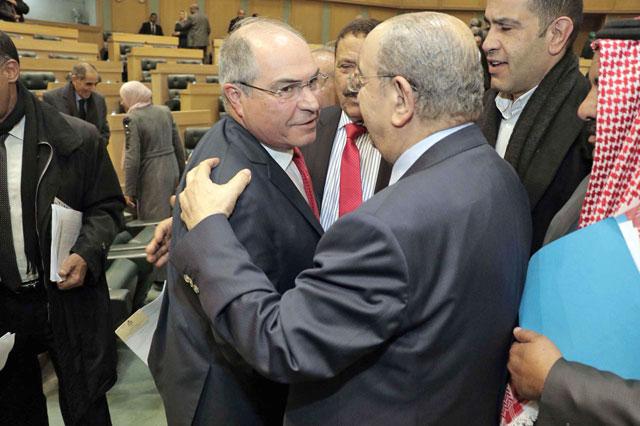 Prime Minister Hani Mulki (left) is congratulated by MPs and officials after his government survived a vote of no-confidence on Monday (Photo by Osama Aqarbeh)
AMMAN — The government on Sunday survived a parliamentary vote of no confidence brought by a group of MPs over a lack of vision to address current challenges.
A total of 67 deputies voted "yea" for granting confidence to the government of Prime Minister Hani Mulki, while 49 withheld confidence and 8 abstained. A total of 122 deputies out of the 130-seat Lower House attended the session.
Thanking the House for renewing confidence in his government, Mulki said he would move ahead with his government's policies aiming at "upgrading the living conditions of all Jordanians and strengthening the country".
"The government will move ahead with its decisions and will not procrastinate because it is not seeking popularity," Mulki said.
A total of 22 MPs had signed a memorandum of no-confidence against the government put forward by the House's 14-member Reform Bloc.
Signatories of the memo cited the government's "inability to address the current challenges and the tax burdens it has put on citizens" as the major validating reasons behind their request of a no-confidence vote.
Paragraph A of Article 54 of the Constitution says: "A session to consider a vote of confidence in the Council of Ministers or any individual minister shall be held at the request of the prime minister or a request signed by no less than 10 deputies."
Upon its conception in November 2016, the government of Mulki won the House's vote of confidence with a majority of 84 out of the 128 deputies present.
In December, the Lower House voted in favour of the state budget and budgets of independent government units' draft law in which the executive branch included policies to salvage the ailing economy, including, for the first time, a social safety network/cash subsidy with a value of JD177 million to make up for the rising cost of living brought about by lifting subsidies.
The public opinion has blamed the deputies for passing the bill, which resulted in hikes in the prices of commodities and services.
Related Articles
Feb 18,2018
AMMAN – The government on Sunday survived a parliamentary vote of no-confidence brought by a group of MPs over what they said lack of vision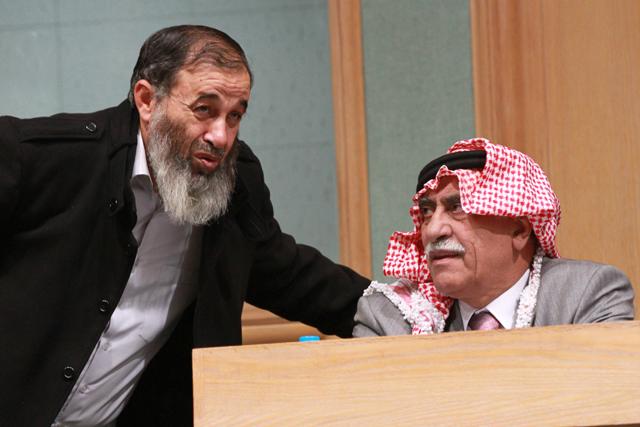 Dec 14,2014
More than 20 MPs signed a memorandum on Sunday, requesting a motion of no confidence in Prime Minister Abdullah Ensour's government, primarily citing its incapability to run the state's affairs.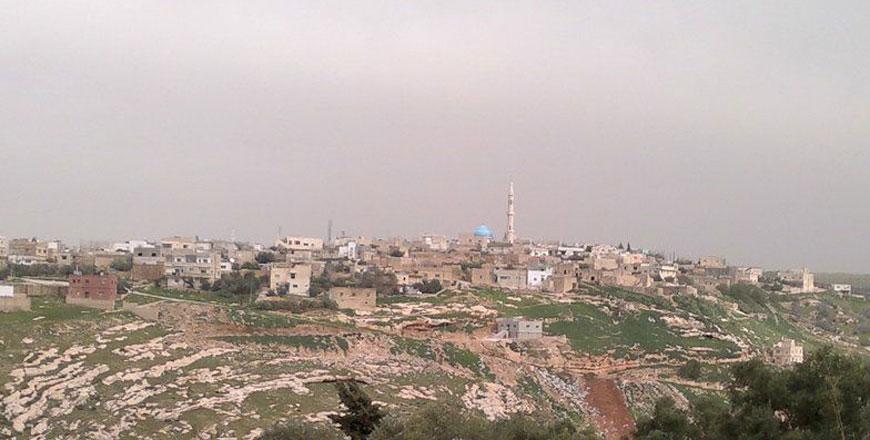 Feb 19,2018
AMMAN — Dismayed by the fact that only three of Irbid's 20 MPs voted "no" for granting confidence to the government, citizens of Bayt Yafa v
Newsletter
Get top stories and blog posts emailed to you each day.