You are here
Mulki meets with Senate, Lower House committees over agricultural taxes
Lawmakers present alternatives to tax hikes on agriculture sector
By JT - Mar 15,2018 - Last updated at Mar 15,2018
Prime Minister Hani Mulki meets with heads of the Senate's and Lower House's agriculture committees (Petra photo)
AMMAN — Two leading lawmakers on Thursday presented the government with a set of alternatives to the recent taxes imposed on the agricultural sector, the Jordan News Agency, Petra, reported.
During a meeting with Prime Minister Hani Mulki, the heads of the Senate's and Lower House's water and agriculture committees Marwan Hmoud and Khaled Hiyari submitted a memorandum including a set of alternatives to the taxation imposed on agricultural production's inputs, which was prepared in coordination with farmers' representatives.
Mulki stressed that the government will "positively" examine the suggestions, stressing keenness on improving the sector and removing all obstacles it is facing, "especially in light of the borders closures [due to regional turbulence] and, consequently, the drop in agricultural exports".
Senator Hmoud and Deputy Hiyari emphasised that implementing these alternatives will serve the mutual interests of the State Treasury and the agricultural sector, according to Petra.
Farmers have staged a sit-in near the front of the Parliament for several days, protesting the recent tax hikes on the agricultural sector.
Mulki then held a meeting with the House panel and agriculture stakeholders to study the impact of possible exemption of the agricultural sector from the price hikes that have gone into effect recently.
"Any decision in this regard should take into consideration that public finances remain sound," the Jordan News Agency, Petra, quoted the head of the panel, Hiyari as saying, reiterating that salvaging the economy is a shared responsibility,
In a recent meeting with the farmers' representatives, the premier had confirmed the existence of a zero sales tax on non-processed agricultural items, including live animals, live poultry, fruits, and vegetables, as well as agriculture exports.
Related Articles
Feb 15,2018
AMMAN — Prime Minister Hani Mulki on Thursday told a House panel and stakeholders that the government would study the impact of possible exe
Mar 18,2018
AMMAN — Farmers on Sunday suspended their two-month protest in front of the Parliament after receiving government assurances of meeting thei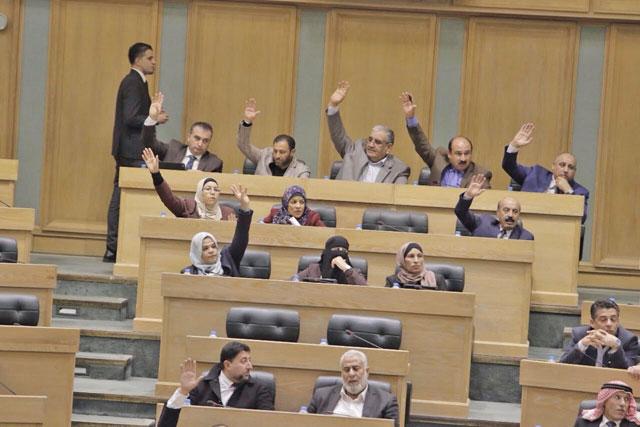 Feb 04,2018
AMMAN — Lower House Speaker Atef Tarawneh on Sunday said that the government will respond within 10 days to MPs' recommendations on recent i
Newsletter
Get top stories and blog posts emailed to you each day.