You are here
'Misuse of social media can bring unexpected consequences'
By Dana Al Emam - May 20,2016 - Last updated at May 20,2016
Over the past few years, several posts on Facebook and other platforms created controversy in Jordan (MCT photo)
AMMAN – Experts on Wednesday warned social media users in Jordan that online posts can sometimes bring unexpected consequences, including getting in trouble with the law or the society.
As the use of social networks is increasing rapidly in the Kingdom, they said consumers of digital media need to use social media cautiously when they post something to a site like Facebook, Twitter or YouTube, stressing the importance of educating users, particularly the youth, on distinguishing between what is private and what can be shared publicly.
Literacy is a crucial tool for enhancing awareness among users on privacy issues that sometimes they tend to disregard intentionally or unintentionally, the experts stressed.
Over the past few years, several posts on Facebook and other platforms created controversy in Jordan. Some caused public anger and others saw some users face legal actions.
The number of social media users in Jordan, mainly Facebook, exceeds 2.5 million, according to official data. Jordan's population, including guests, stands at less than 10 million, according to 2015 census.
"There is a strong trend worldwide to enhance awareness on the proper use of digital media among all users and Jordan should start its own initiative at the level of school curricula and university programmes," said Jordan Media Institute Dean Basim Tweissi.
Such educational material aims to teach the new generation how to properly use social media tools and avoid possible virtual dangers, including privacy violations, Tweissi said, noting that young users and those with minimal knowledge about technology are more likely to commit such violations.
He added in a phone interview with The Jordan Times that the past five years witnessed a "rush" in the use of social media outlets in Jordan, a matter that requires users to "know their limits and respect others".
Disrespecting these privacy limits, according to Tweissi, may result in serious social and cultural implications that may shake the stability of the value system and disrupt the social and cultural transformation process currently taking place in Jordan and the region.
Abeer Abu Touq, an expert in the field of social media, agreed with Tweissi, adding that users should develop a form of self-censorship, especially influential figures with many followers.
"There is nothing private anymore… privacy limits are falling off and this is not a positive indicator," she said, adding that the openness and freedom of expression social media outlets give to users must be accompanied by "self-regulation" and giving thought to what is being published, said Abu Touq, who is head of social media at Ro'ya TV.
Many users, Abu Touq said, share personal updates, including photos of family, weddings, honey moon, feasts and meetings, or "everything they do during the day".
"Such openness can be troublesome. For example, an employee on a sick leave could get in trouble when his or her friends share posts or photos showing they were out together," she said.
Recently, a video clip showing a father mocking his daughter's frustration for not making it to the list of the top achieving students in her class stirred controversy among social media users.
Yara's father, who taped the video while driving his daughter home from school, compared his daughter to other girls with seemingly lower capabilities and called his daughter names.
The video shows the girl crying and expressing anger and jealousy over the fact that she was not selected "the star of the week", despite her academic excellence. She was also enraged by her father's attitude to belittle her anger.
The father, who resides in Saudi Arabia, published another video later in which he apologised for the previous video, claiming that he was joking with Yara and that he did not take the video for publishing purposes, but it "slipped by mistake" into the cyber sphere.
The father, who also has two boys, noted that he and his kids are used to this kind of jokes, highlighting his kids' advanced educational performance.
What was meant to be a private clip meant to be seen by the nucleus family went public a case study explored by the media, raising questions on how families bring up their children.
Amid the debate, Psychiatrist Mohammad Dabbas told The Jordan Times children cannot generally tell in such incidents if the parents are joking or are being serious, adding that children need to be respected and supported at all times.
Related Articles
Nov 05,2016
AMMAN — The Public Security Department (PSD) has announced that it would track down all those who shared photos of the mother who was decapi
Mar 03,2016
AMMAN — With social media users and even news websites circulating rumours during the security operation against terrorists in Irbid, expert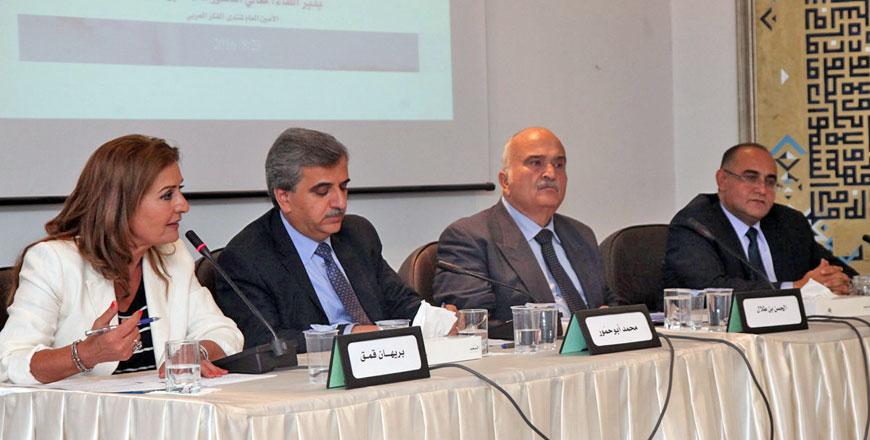 Aug 24,2016
AMMAN — Social media are a double-edged sword that is equally capable of enhancing social cohesion and inciting hatred that tears apart the
Newsletter
Get top stories and blog posts emailed to you each day.