You are here
Mexican ambassador hails ties with Jordan, urges further trade cooperation
By Batool Ghaith - Sep 14,2021 - Last updated at Sep 14,2021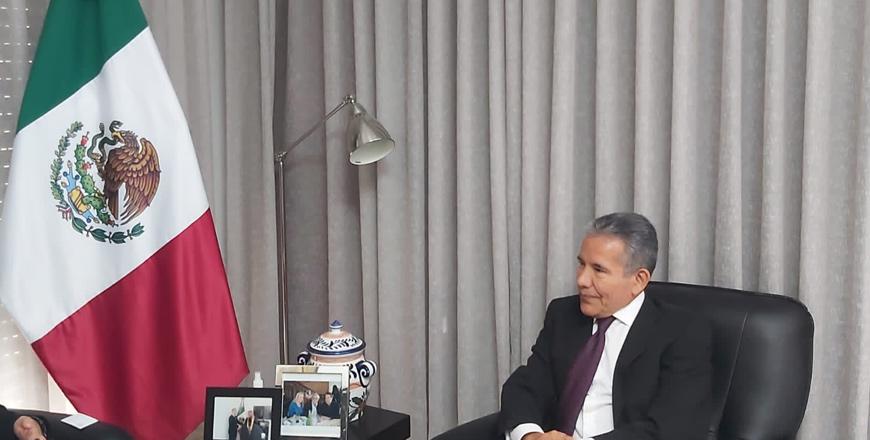 Mexico's Ambassador to Jordan Rodriguez-Hernandez speaks to The Jordan Times during an interview on Tuesday (Photo courtesy of Samer Al Azzeh)
AMMAN — Negotiations are under way between Mexico and Jordan to reinforce economic, political, cultural and educational cooperation, according to Roberto Rodriguez-Hernandez, Mexico's ambassador to Jordan.
Political relations between Mexico and Jordan are of high importance, Hernandez said.
"We have the same principles as Jordan when it comes to foreign policy. We sometimes receive petitions from the Jordanian government to support different candidacies for the United Nations organisations. We always support each other," Hernandez told The Jordan Times during an interview on Tuesday.
Hernandez noted that the two countries are working on enhancing cooperation in education fields, as well as the cultural matters.
"We are trying to promote the Mexican culture, music and food. We are also encouraging Jordanian universities to have students conduct research regarding products that can be exported to Mexico, and doing the same on the Mexican side," he continued.
According to the ambassador, the trade volume between the countries is "very modest", as it did not exceed $1.5 million in the last five years.
"Most of the trade is not direct from Mexico to Jordan or vice versa," Hernandez noted, adding that "it [trade] happens through the United States because Mexico has lots of companies based in the US."
He encouraged cooperation between the countries to achieve a higher trade volume.
"We are in the process of negotiating with the Jordanian minister of the economy to present certain tax-free products in Jordan from Mexico, and also Jordanian products that are tax-free in Mexico. Initiating this step will be a good start for trade," the ambassador added.
Hernandez said that an agreement has been signed between the Jordan Chamber of Commerce (JCC) and the main corporation of the Chambers of Commerce in Mexico.
"We are receiving lots of support from Jordanian businessmen. We want them to see Mexico and Latin America as an opportunity, while doing the same in Mexico; promoting Jordan as a platform to develop the whole region," he said.
Hernandez pointed out that they are looking into areas that have the "most advantages, especially in sectors where Jordanians and Mexicans can invest, to promote the development of the economy in both countries".
Hernandez said that the next step is to establish committees to follow up on different areas of cooperation, such as culture, education and science.
He noted that the two countries are exploring how to further collaborate.
"The cooperation was modest during the pandemic, but we are working on having more contact and communication," the envoy said.
Regarding Mexican National Day on September 16, the ambassador noted that Mexican communities will celebrate it globally.
"We have a celebration and ceremony that starts on the night of September 15 with food, music and fireworks. We are glad to celebrate it here in Jordan and in different parts of the world," Hernandez said.
up
13 users have voted, including you.
Newsletter
Get top stories and blog posts emailed to you each day.