You are here
Maj. Gen. Ahmad Faqih appointed as new police chief
By JT - Jan 11,2017 - Last updated at Jan 11,2017
AMMAN — A Royal Decree was issued on Tuesday approving a Cabinet decision to appoint Maj. Gen. Ahmad Sarhan Faqih as director of the Public Security Department (PSD), as of January 10, replacing Maj. Gen. Atef Saudi.
Faqih was born in 1952 and joined the Military Defence College in 1972, from where he graduated with the rank of lieutenant, local news outlets reported.
Later, he joined Mutah University and received a bachelor's degree in English, before joining the Jordan Armed Forces–Arab Army (JAF) where he went up the hierarchy to become a major general by the time of his retirement in 2009.
The general served as commander of the Special Operations Forces and director of the military intelligence at JAF, in addition to serving as a military attaché in Jordan's embassy in Washington and head of the international peacekeeping forces in Sierra Leone.
He will be receiveing congratulations for his appointment as PSD director on Thursday between 6pm and 10pm at the PSD's building in Omeish, south Amman, according to a PSD statement.
In a statement, a copy of which was sent to The Jordan Times, Maj. Gen. Saudi expressed his pride for serving in the police force for more than 30 years, during which he was "witness to PSD personnel's keenness to execute their duties perfectly in the service of their country and people".
In a letter that His Majesty King Abdullah addressed to the new police chief, he said that the PSD is the first line of defence, tasked with protecting citizens and the country's assets and entrenching the rule of law "within a civil state built on the principles of equality, justice, dignity and safeguarding of rights and freedoms".
The police officer plays a pivotal role in building the "state of law", with a mission to "ensure the highest degree of security and peace of mind in our dear country, a task that cannot be accomplished except through mutual respect between police and citizens…and professionalism in police work relying on the highest standards of discipline, integrity and transparency", the King said.
Police centres, the King said, are people's refuge when needed and therefore, they should be a model of modernity to reflect the best image of Jordan.
His Majesty directed the new PSD chief to arrange training for all PSD employees to upgrade their skills, applying the best international practices in their training coupled with modern technology, while stressing that police personnel's living conditions should be improved.
In light of the security threats facing Jordan, the King underlined the need for security agencies to coordinate their work closely to ensure the success of their operations.
In this context, His Majesty stressed the need to revisit and update all security strategies and plans to "bring an end to all forms of law violations, safeguard the state's authority and fight crimes, especially those related to narcotics".
Related Articles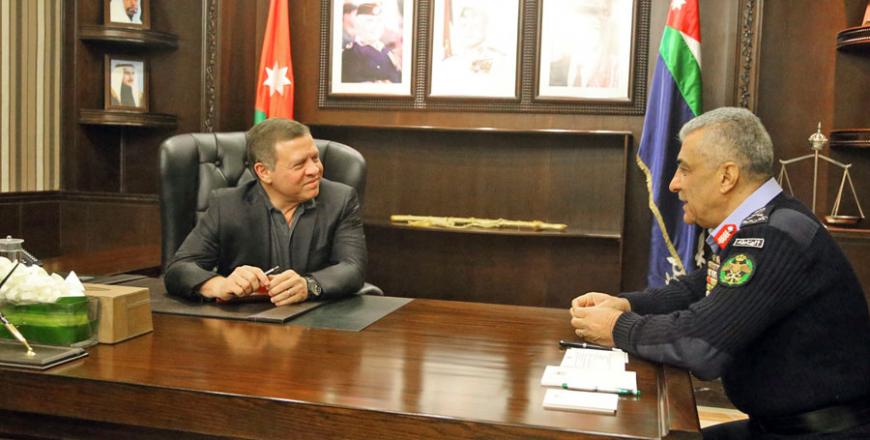 Jan 16,2017
AMMAN — His Majesty King Abdullah, the Supreme Commander of the Jordan Armed Forces-Arab Army (JAF), on Monday paid a visit to the Public Se
Jan 22,2017
AMMAN — Public Security Department (PSD) Director Maj. Gen.
Dec 23,2014
Public Security Department (PSD) Director Gen. Tawfiq Tawalbeh on Tuesday received a Yemeni police delegation headed by Maj. Gen. Abdulhamid Hamadi and discussed ways to boost security cooperation.
Newsletter
Get top stories and blog posts emailed to you each day.