You are here
Madaba's heritage, coexistence take centre stage at US exhibition
By Saeb Rawashdeh - Oct 02,2023 - Last updated at Oct 02,2023
Participants pose for a photo during the exhibition 'Sacred Places' at The Children's Museum in Indianapolis (Photo courtesy of TCM)
AMMAN — Educating visitors about religious practices of different communities around the world was a main motive for organisers of the exhibition "Sacred Places" at The Children's Museum (TCM) in Indianapolis, which featured Madaba as a centre of Christianity, said an American scholar.
"When we learn about the religions of our neighbours here and across the globe, we're better able to understand and communicate with one another," said Douglas Clark, quoting the theme posted at the entrance to the exhibit.
Clark said Madaba was featured during the Byzantine Period (4th-7th centuries AD). The exhibit highlighted Madaba's churches and mosaics, the establishment of the modern city primarily by Christian families migrating from Karak at the end of the 19th century and the noteworthy coexistence of Christian and Muslim citizens today.
In order to highlight Madaba's legacy, the Jordanian Ministry of Tourism has partnered with other entities to create new local visitor trails and routes that join together sites like Umm ar-Rasas, Madaba, Machaerus (Mukawir), Mt Nebo and the Baptism Site.
After the exhibition in Indianapolis, "Sacred Places" will tour around the US, Clark said.
Clark has played a role as a consultant due to his position as a co-director of the Madaba Regional Archaeological Museum Project and his interest in children's education in cultural heritage.
"It has been a distinct pleasure to work with the TCM personnel and the Madaba Department of Antiquities staff by providing archaeological and historical background during a team visit to Madaba in December and by staying in touch with the museum as it continued the planning stages," Clark said.
For "Sacred Places" the TCM partnered with CyArk, a non-profit focusing on the digital preservation of heritage, helping the museum identify communities willing to share their stories and sacred places, said Kacey Hadick, director of programmes and development at CyArk.
"CyArk reached out to former partners we had worked with on previous collaborations and was thrilled to recommend Madaba as the site to represent Christianity," Hadick said.
Jude Twal, who was chosen to represent both Madaba and Christian heritage, shared her thoughts about the exhibit.
"The Sacred Places exhibit is a unique exhibit not in its concept but in its undertaking and execution," Twal said. "It is an impactful display of coexistence, consolidating threads of many allied and opposing societies, to eventually create a cohesive and exuberantly chromatic tapestry."
According to Kimberly Robinson, one of the TCM organisers, "the experience of being in a sacred place can affect us in immediate and long lasting ways that potentially change our perspectives of ourselves and the world."
Being at "a sacred place helps us understand the religious and cultural stories and values of our neighbours," Robinson said.
Related Articles
Aug 18,2019
AMMAN — What is the purpose of a heritage museum?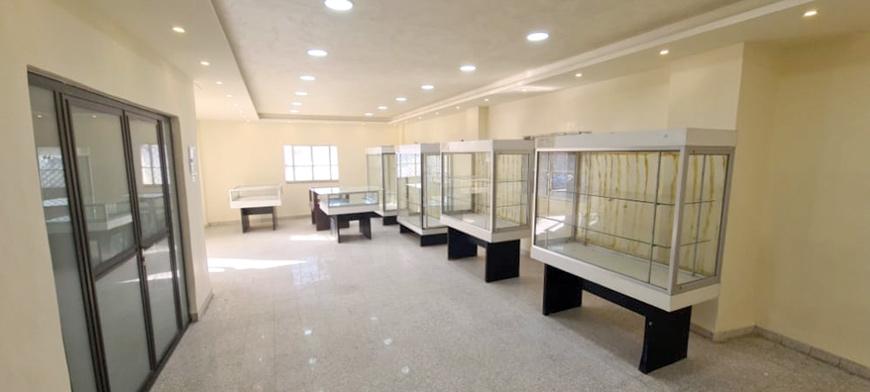 Jun 10,2021
AMMAN — The Madaba Regional Archaeological Museum Project (MRAMP) has made significant progress during the past few years in preparing the M
Jan 12,2017
AMMAN — Extensive archaeological sites, including the world-famous mosaic in Madaba, have long made central Jordan a source of fascination a