You are here
Local artisans and designers join talents to boost craft business scene
By Camille Dupire - Oct 12,2017 - Last updated at Oct 12,2017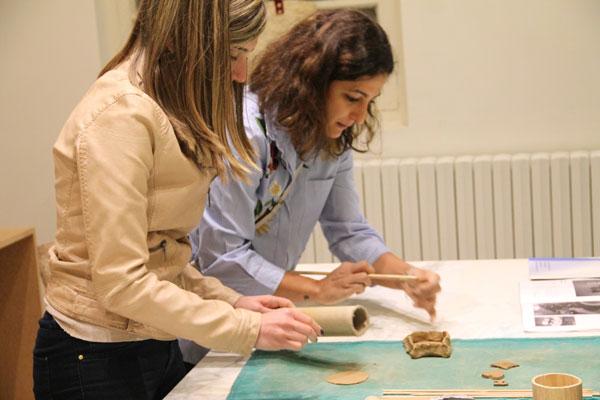 14 designers were showcased at the interactive exhibition at NOFA Creative Space on Wednesday (Photo by Camille Dupire)
AMMAN — "My creations are on-the-go ambassadors of Jordan to the world," said designer We'am Zeidan at the "Design for Impact" exhibition held at NOFA Creative Space on Wednesday.
Zeidan was one of the 14 designers present at the interactive exhibition that aimed to "celebrate design, craft, and the art of co-creation", according to its organisers.
"This exhibition is a great achievement but also, we hope, the starting point of a collaborative approach to design and artisanship in Jordan," said Maja Rotter, Head of the German Development Cooperation's (GIZ) Responsible and Inclusive Business Hub MENA programme, which organised the 10-week collaboration project that led to the exhibition.
The showcase featured innovative products resulting from collaborative partnerships between local designers, craftsmen and craftswomen who worked together for three months in developing a successful inclusive business model.
"Designers usually delegate the work to artisans without understanding the challenges and limitations of the production process," said Hana Faouri, creative arts and cultural project manager at the British Council, which co-organised the programme.
"Through this programme, we facilitated the sharing of skills between the designers and artisans and showed them how much the other party had to offer," she told The Jordan Times at the event.
Set up across the NOFA creative space located in Jabal Amman, each booth showcased a unique craft — embroidery, weaving, calligraphy, mosaics — that revived traditional production methods through a modern design process.
Trendy style back straps embroiled with Jordanian heritage patterns were displayed at Zeidan's Taqsireh booth, exposing her collaboration with the local Iraq Al Amir Women Association and artisans from Al Baqaa and Al Teeba refugee camps.
"Through those creations, which blend the tradition and heritage of Jordan's weaving and embroidery in a modern trendy style, we aim to introduce the new generation to the richness of their culture," Zeidan said.
Home furniture and fashion pieces were showcased alongside tableware, lighting units and laptop sleeves, offering the visitor an immersion into the "purely Jordanian" creative process.
The participants began their journey in August by discovering the often overlooked and marginalised local craft scene. They then engaged in a partnership and learning process, where they were familiarised with inclusive business models, the GIZ officer explained. "There are so many talents locally, and all they need is a bridge to meet and exchange their skills and ideas. Bringing these two worlds together to trigger long-lasting creative partnerships was the ultimate goal of our programme," Rotter stated.
"All these creations are made with an impact in mind," said Eman Diab, a designer who collaborated with basket weaver Hadil Sobaihy.
"People tend to think that banana leaves are not pretty and they are only limited to small practical items. I wanted to show that, with a Mishmash — a 'weird mixture' — you can make something beautiful and functional," said the young woman, who just founded her own design company "Mishmash" through the programme.
In the middle of NOFA's garden, "The Humble Table" gathered visitors throughout the day around an innovative catering concept launched by Namliyeh with the support of GIZ RIBH.
An inclusive idea inviting all guests to create their own meal from 100 per cent locally sourced ingredients, The Humble Table was equipped with locally crafted "modest" tableware products.
"We collaborate with local bread makers, farmers, producers, who do not have the resources to access the national market," explained Aya Shaban, one of the co-founders of Namliyeh, adding "we try to bring a totally new experience in the way people approach food."
Featured designers also included Aisha Dweikat, Amani Qaddoumi, Dana Rousan Al Barghouthy, Hind Jarar, Laith Abu Taleb, Majeda Zaghlan, Nada Kabarit, Nour Al Gharibeh, Omar Hajawi, Razan Basim, Susanne Baalbaki, Tamara Ala Ali and Waed Saeed.
Related Articles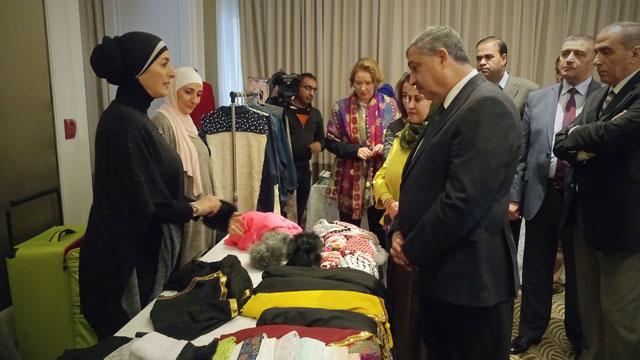 Nov 23,2017
AMMAN — Minister of Labour Ali Ghezawi on Thursday inaugurated the 10th exhibition of Women's Hand Made Products in Amman, showcasing the cr
Sep 04,2016
AMMAN — As part of the Amman Design Week (ADW), which officially opened on Thursday, the Crafts District has been launched in the Raghadan T
Feb 27,2017
AMMAN — Amman Design Week announced on Monday it will be back for its second edition in the period October 6-14.The event — which includes e
Newsletter
Get top stories and blog posts emailed to you each day.