You are here
Less than 40% of eligible voters will go to polls, 19% undecided — study
By JT - Aug 21,2016 - Last updated at Aug 21,2016
AMMAN – The Phenix Centre for Economic and Informatics Studies has polled Jordanians on their attitudes to participating in the September 20 parliamentary elections.
A copy of the study, e-mailed to The Jordan Times on Sunday, said the poll aimed at testing Jordanians' willingness to vote in the upcoming elections to choose their new deputies.
The poll was conducted among a national population sample of 1,200 citizens, distributed throughout the Kingdom's governorates, said the centre.
Data were collected between August 6 and 11 via direct interviews with adult representatives of each household, according to the study.
The centre found that 38.9 per cent of eligible voters intended to vote, 42.1 per cent did not intend to vote, while 19 per cent were still undecided.
Regarding motivation for voting, the study found that 32.6 per cent vote in order to elect a relative or a member of the same tribe. Some 27.2 per cent said they would be voting out of a sense of civic duty, and 24.8 per cent because they agree with the views of particular candidates.
According to the study, 10.3 per cent claimed they would vote out of personal interest, for example, if they stand to gain from the election of a particular candidate, and 5.1 per cent gave other motives.
On reasons for not participating in the elections, the study found that 30.5 per cent of those who said they would not go to the polls stated that their unwillingness to vote stemmed from a dissatisfaction with the performance of former MPs.
Meanwhile, 25.7 per cent said they doubted the integrity of the elections, and 23.6 per cent stated that they did not support any of the candidates running. Furthermore, 14.4 per cent said they were not interested in elections and political affairs, and 5.8 per cent cited other motives.
Attitudes towards elections by region
The study found that some contrasts appear when comparing citizens' attitudes towards the upcoming elections in the northern, central and southern regions.
The survey results showed the northern region had a higher percentage of citizens willing to vote — 40.4 per cent — followed by the central region (38.9 per cent) and 33.9 per cent in the south.
Results showed that 4 per cent more women intend to vote than men — 41 per cent to 36.9 per cent.
In regards to age groups, the poll found that voters over the age of 50 are the most inclined to vote (45.6 per cent), whereas those aged 31 to 40 are the least likely to participate in the elections (35.3 per cent), according to the study.
Related Articles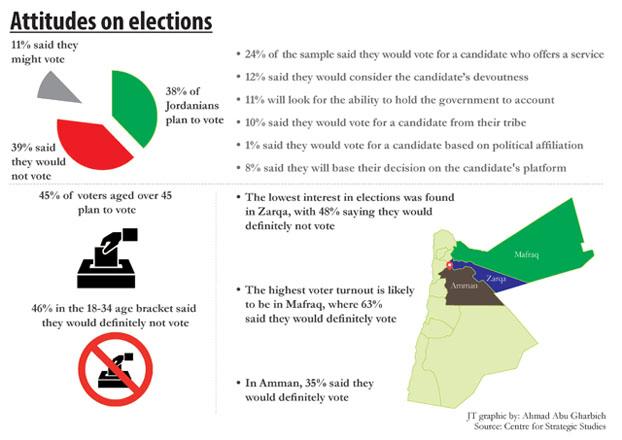 Sep 17,2016
AMMAN — Only 38 per cent of Jordanians plan to vote in the parliamentary elections on Tuesday, according to an opinion poll released on Satu
Jul 10,2016
AMMAN — Seventy-five per cent of the members of the 17th Lower House intend to run for the upcoming parliamentary elections, according to a
Jul 05,2014
Indonesia's presidential race appears to have tightened dramatically less than a week before the election with credible polling showing front-runner and former Jakarta governor Joko Widodo having lost virtually all the formidable lead he had before his nomination.
Newsletter
Get top stories and blog posts emailed to you each day.