You are here
'Kingdom suffers from lack of affordable housing, excess in luxurious homes'
By Mohammad Ghazal - Jun 19,2018 - Last updated at Jun 19,2018
AMMAN — Expensive homes are easy to find in Jordan, as opposed to affordable flats for the poor, according to a report by the Economist.
In Jordan, 26 per cent of houses have at least two people per room, and 5 per cent have at least four. Even in the oil-rich Gulf states, young people struggle to find affordable housing, the report said.
"The crisis has deep social consequences. Young people cancel engagements and postpone marriage because they cannot afford to make a home together," the report released this week showed.
Amman has grown with rapid speed in the last period, partly owing to an influx of Iraqi and Syrian refugees.
Builders must cope with burdensome regulations and antiquated zoning laws, according to the report. One study in Jordan found that they pay a third of a project's value in taxes and fees. Rent controls also make it unprofitable to build in many places.
Large parts of Amman are zoned for high-end units, even though the market wants cheaper ones. The government has also set the minimum size for new apartments at 110 square metres (sqm), bigger than most people want or can afford, which led to a decline in trading in the sector.
"It is much easier to find a luxurious and big flat in Amman than to find an affordable one that is less than 110 square metres… Because of the recently endorsed building bylaw, we are not allowed to build small apartments that are in need in the market," President of the Jordan Housing Developers Association Zuhair Omari told The Jordan Times on Tuesday.
"Prices in Jordan are high as the prices of land plots are expensive and we pay large amount in fees and taxes," he said.
The bylaw stipulates that housing apartments must be at least 110sqm in categories B, C and D, and 130sqm if classified in A zones, which, according to housing developers, would limit buyers' options.
Under the bylaw, housing developers cannot build small apartments anymore, although the demand in the market is on apartments that are smaller than 120sqm, according to Omari, who said that the bulk of the demand is for apartments of 90 and 80sqm.
According to the association, 32 per cent of Jordanians who bought apartments in 2017 chose ones that were smaller than 120sqm.
"With the rise in prices and high interest rates, a Jordanian whose salary is JD1,150 will hardly be able to buy a flat… Those whose salaries are less need small apartments which they can afford," Omari added.
According to Omari, out of each JD1 spent by developers in the sector, around JD0.20 to JD0.30 goes to the treasury in taxes and fees.
"This is another reason why prices are high," he said.
"We demanded changing the bylaw several times, but nothing happened," he said.
The sector, which contribute around 5 per cent to the gross domestic product, employs tens of thousands of Jordanians.
The sector has been witnessing slow business since 2015. The total value of apartments that have been built since 2015 to date and have not been sold yet is estimated at JD1 billion, according to the sector leader.
Trading in the real estate sector declined by 7 per cent in the first quarter of 2018 to JD1.399 billion compared with JD1.505 billion during the same period last year.
Related Articles
Apr 26,2018
AMMAN — Housing developers have suspended a week-long work strike started earlier this week to protest the recently endorsed building by-law
May 24,2018
AMMAN — None of the country's housing developers has had a single licence issued to start a new building since the building bylaw went into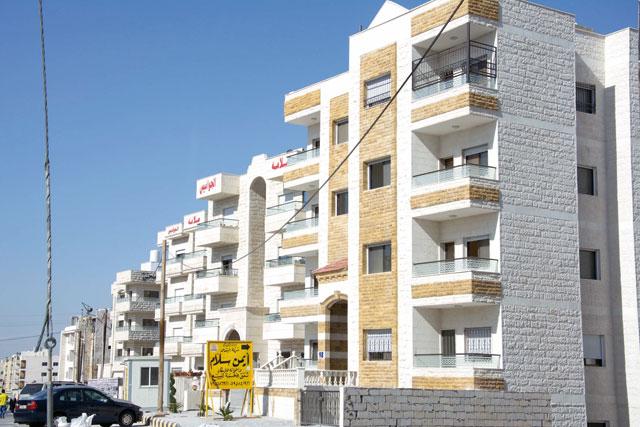 Apr 02,2018
AMMAN — Housing developers will hold a week-long work strike to be followed by a sit-in to protest the recently endorsed building by-law, wh