You are here
King visits Dead Sea Martyrs Civil Defence Centre
By JT - Dec 02,2020 - Last updated at Dec 02,2020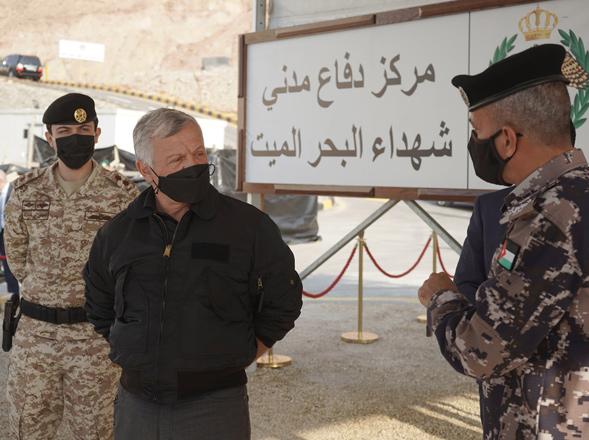 His Majesty King Abdullah, the Supreme Commander of the Jordan Armed Forces-Arab Army, accompanied by HRH Crown Prince Hussein, visits the Dead Sea Martyrs Civil Defence Centre on Wednesday (Photo courtesy of Royal Court)
AMMAN — His Majesty King Abdullah, the Supreme Commander of the Jordan Armed Forces-Arab Army, accompanied by HRH Crown Prince Hussein, on Wednesday visited the Dead Sea area, to inspect the Dead Sea Martyrs Civil Defence Centre, and the Zarqa-Maeen bridge rehabilitation project.
The visit is in line with King Abdullah's concern for public safety and precautionary measures taken to deal with emergencies at the Dead Sea area, as well as to follow-up on infrastructure projects that began two years ago in the aftermath of the deadly flash floods at the Zarqa-Maeen bridge, according to a Royal Court statement.
Upon arrival at the Dead Sea Martyrs Civil Defence Centre, His Majesty was received by Public Security Directorate (PSD) Director Maj. Gen. Hussein Hawatmeh, and was briefed on the services it provides.
The King saluted his brothers in arms and expressed appreciation for the efforts of PSD and Civil Defence personnel, voicing pride in their readiness to protect Jordan's sons and daughters, and praying for the souls of the Dead Sea flash flood martyrs.
His Majesty stressed the importance of continuing to develop all Civil Defence centres, keeping them up-to-date and capable of dealing with any emergency and conducting rescue operations in line with the highest standards.
PSD Director Maj. Gen. Hussein Hawatmeh said priority has been given to the Dead Sea Martyrs Civil Defence Centre, with the directorate staffing it with qualified personnel — including 50 divers and 27 rescue workers who were trained in line with the standards of the International Search and Rescue Advisory Group — and fitting it with the latest equipment and rescue boats.
During a visit to check on the Zarqa-Maeen bridge project, the King was briefed on rehabilitation work, which was fully completed there as part of a project to rehabilitate eight bridges on the Dead Sea-Aqaba highway.
Four of these bridges are fully revamped, while completion rates on the remaining bridges range between 70 and 90 per cent.
Prime Minister Bisher Al Khasawneh and Royal Hashemite Court Chief Yousef Issawi accompanied His Majesty on the field visits.
Newsletter
Get top stories and blog posts emailed to you each day.