You are here
King says abiding by COVID-19 preventive measures has led to gradual improvement in epidemiological situation
By JT - Dec 04,2020 - Last updated at Dec 03,2020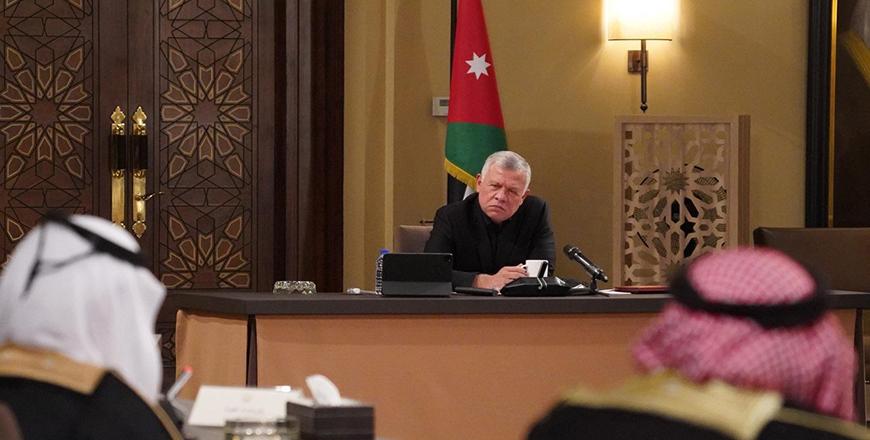 His Majesty King Abdullah meets with figures from various governorates at Al Husseiniya Palace on Thursday (Photo courtesy of Royal Court)
AMMAN — His Majesty King Abdullah on Thursday said that abiding by COVID-19 preventive measures and mask-wearing has led to the gradual improvement of the epidemiological situation, noting the decrease in cases over the past week in Jordan.
At a meeting with figures from various governorates at Al Husseiniya Palace, King Abdullah stressed the importance of continued adherence to preventive measures to avoid any setbacks that could worsen the epidemiological situation, according to a Royal Court statement.
His Majesty said a number of countries producing COVID-19 vaccines have been contacted to provide Jordan with vaccines as soon as possible, adding that priority will be given to the elderly and frontline medical workers.
The King also noted that the government is working on a programme to safeguard a number of economic sectors, noting that Jordan's economy, as is the case with the rest of the world, is paying the price of the COVID-19 pandemic, especially in terms of poverty and unemployment.
His Majesty stressed the importance of developing a strategy for the agriculture sector in 2021, noting the agricultural potential across Jordan and urging joint action to boost the agricultural map and engage the public in these projects.
Speaking at the meeting, Prime Minister Bisher Khasawneh said the government will help fund some sectors to protect nearly 180,000 jobs at around 20,000 private sector institutions, while a JD20 million interest-free loan will be directed to boost the tourism sector, which has been affected by the pandemic.
Prime Minister Khasawneh said the government has also worked within the new measures to expand the number of National Aid Fund beneficiaries to include 100,000 households, or nearly 400,000 people, at a cost of JD100 million.
For their part, the attendees commended Jordan's commitment to holding safe and successful elections, in line with constitutional requirements, stressing the importance of supporting sectors affected by COVID-19 and launching programmes to reduce poverty and unemployment.
Noting the need to complete the agricultural map that the government is working on, they called for empowering women in public and political life and investing in Jordan's human resources.
With Jordan marking the state's centennial next year, they paid tribute to the country's resilience over the decades in the face of various challenges.
They called for a long-term economic plan, supporting national industries, attracting investments, and capitalising on Jordan's potential, while paying special attention to tourism.
Royal Hashemite Court Chief Yousef Issawi, Adviser to His Majesty for Tribal Affairs Saad Hayel Srour, and Chairman of the Joint Chiefs of Staff Maj. Gen. Yousef Huneiti attended the meeting, which is part of His Majesty's ongoing outreach to figures from across Jordan.
Newsletter
Get top stories and blog posts emailed to you each day.