You are here
King meets top Japan lawmaker over ties, region
His Majesty urges world community to support Mideast peace
By JT - Dec 11,2017 - Last updated at Dec 11,2017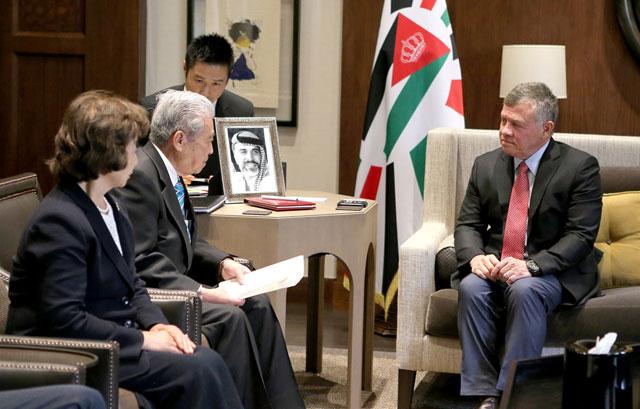 His Majesty King Abdullah meets with Japanese House of Councillors President Chuichi Date in Amman on Monday (Photo courtesy of Royal Court)
AMMAN — His Majesty King Abdullah on Monday received Japanese House of Councillors President Chuichi Date who is currently visiting Jordan, according to a Royal Court statement.
During the meeting, attended by Senate President Faisal Fayez, His Majesty and Date stressed the strong relations and high level of cooperation between the two countries, especially in the fight against terrorism through a holistic approach.
His Majesty expressed his appreciation for the support Japan extends to Jordan, which enables the Kingdom to implement development projects and programmes.
His Majesty and Date discussed developments related to Jerusalem in the light of the US recognition of Jerusalem as the capital of Israel and the relocation of the US embassy to the occupied city.
King Abdullah stressed that the Islamic summit in Turkey, slated for Wednesday, will examine challenges ensuing from the US decision, which, he said, would have serious repercussions on the security and stability of the region and efforts to achieve peace.
King Abdullah also emphasised that the international community should take a supportive stance on peace efforts and find a just solution to the Palestinian issue, which, he said, must be settled within the framework of a comprehensive solution that will lead to an independent Palestinian state with East Jerusalem as its capital.
The Japanese top lawmaker pointed out that the US decision is a source of concern because of the negative consequences it has on the region.
Date confirmed Japan's commitment to the two-state solution in order for the Palestinian-Israeli conflict to end, stressing that Jerusalem's issue must be dealt with through final status negotiations based on the resolutions of international legitimacy.
As for the bilateral relations, Date highlighted Japan's commitment to encouraging investment in Jordan and continuing economic support for Jordan.
Royal Court Chief Fayez Tarawneh, King Office Director Jafar Hassan, Senator Sakher Dudin, and Date's accompanying delegation also attended the meeting.
Also on Monday the Senate president and Date held a meeting to discuss bilateral relations and regional developments, the Jordan News Agency, Petra, reported.
Fayez pointed out that although Jordan is a small country with limited natural resources that is surrounded by conflicts, wars and terrorist militias, it sets an example of security and stability in the region.
He said US President Donald Trump's decision to recognise Jerusalem as the capital of Israel violates international legitimacy and makes it difficult to resume the peace process between the Palestinians and the Israelis.
Date stressed the importance of Jordan's role in achieving peace and stability in the Middle East, despite the turmoil surrounding it, praising Jordan's resilience and humanitarian role as a host of a large number of Syrian refugees.
Lower House Speaker Atef Tarawneh also met with Date on Monday, emphasizing during talks that Jordan has greatly suffered from the repercussions of the regional situation, mainly due to the refugee waves over the past decades.
Tarawneh pointed out that the recent US decision on Jerusalem has provoked the feelings of Arab and Islamic communities.
The speaker praised Japan for its assistance and pro-peace stance on the Mideast conflict.
Related Articles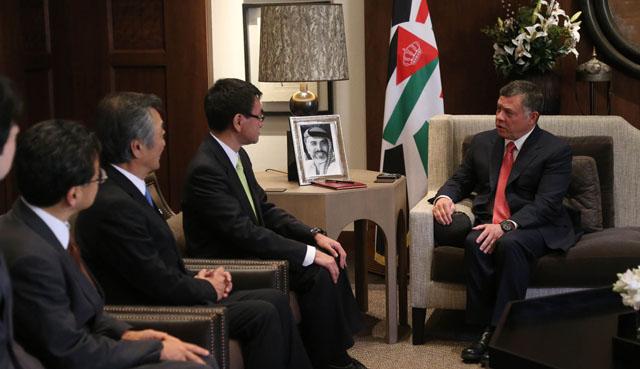 Apr 28,2014
Jordan is keen on building on its partnership with Japan in all spheres, especially in parliamentary and legislative work, His Majesty King Abdullah said Sunday.
Nov 20,2014
Japan has approved a grant to Jordan totalling approximately 2.4 billion yen ($1 is around 118 yen) in assistance, pledging constant support as the Kingdom faces multiple challenges.
Nov 22,2014
His Majesty King Abdullah on Saturday arrived home from a four-day working visit to Japan that started Tuesday, during which he met with Emperor Akihito, Prime Minister Shinzo Abe and other senior officials and top corporate executives. 
Newsletter
Get top stories and blog posts emailed to you each day.