You are here
King meets with Saudi King, crown prince over Jerusalem
His Majesty to head Jordan's delegation to OIC meeting in Turkey
By JT - Dec 12,2017 - Last updated at Dec 12,2017
His Majesty King Abdullah holds talks with Saudi King Salman Bin Abdulaziz of Saudi Arabia in Riyadh on Tuesday (Photo courtesy of Royal Court)
AMMAN — His Majesty King Abdullah held talks with Saudi King Salman Bin Abdulaziz of Saudi Arabia on Tuesday and met with his Crown Prince Mohammad Bin Salman.
Discussions focused on the developments related to Jerusalem and the dangerous implications of the US decision to recognise Jerusalem as Israel's capital and move its embassy there.
At the meeting, attended by HRH Crown Prince Hussein and senior officials on both sides, discussions covered regional issues and the "deep-rooted, historical ties that Jordan and Saudi Arabia share", the Royal Court said in a statement.
The ramifications of the US decision on regional security and stability, as well as on peace efforts, were also discussed.
King Abdullah affirmed the importance of coordinating the Arab position on this issue, unifying action and reaching out to the international community.
The two sides called for intensifying Arab, Islamic and international efforts to safeguard the Palestinians' historical rights to Jerusalem, stressing the importance of reaching a just and lasting solution to the Palestinian cause, based on the two-state solution, international terms of reference and the Arab Peace Initiative.
The two sides also stressed the need to maintain consultations and coordination on various issues of mutual concern, in the service of the Arab nation's just causes, and with the aim of bolstering global security and stability.
His Majesty and King Salman reaffirmed the strong Jordanian-Saudi ties and called for advancing them further, asserting the importance of building on agreements and memoranda of understanding signed between the two countries in a number of vital sectors.
King Salman noted that the security of Jordan and Saudi Arabia is one and the same, stressing that what matters to Jordan matters to Saudi Arabia, and what harms Jordan harms Saudi Arabia.
Talks also touched on the developments in Syria and Iraq, as well as efforts to reach political solutions to regional crises and enable the region's peoples to live in peace.
Foreign Minister Ayman Safadi, King's Office Director Jafar Hassan, Special Adviser to His Majesty Ali Fazza, His Majesty's Personal Envoy to Saudi Arabia Bassem Awadallah and Jordan's Ambassador in Riyadh Ali Kayed attended the meeting.
King Salman hosted a luncheon in honour of His Majesty and the accompanying delegation, attended by a number of senior Saudi officials.
Also in Riyadh, the King, accompanied by Crown Prince Hussein, met with Saudi Crown Prince Mohammed Bin Salman, who is also deputy prime minister and minister of defence.
Discussions covered regional and international developments, especially those related to Jerusalem.
The two sides also affirmed the importance of bolstering military, economic and security-related cooperation between the two countries, the Royal Court said.
His Majesty was due to fly from Riyadh to Turkey, where he will be heading the Jordanian delegation, taking part in the extraordinary summit of the Organisation of Islamic Cooperation (OIC), which will be held in Istanbul today to discuss the latest developments concerning the city of Jerusalem after the US decision, the Royal Court has announced.
Related Articles
Jan 05,2015
His Majesty King Abdullah on Monday telephoned Saudi Arabia's Crown Prince Salman Bin Abdulaziz and checked on the health condition of Saudi King Abdullah Bin Abdulaziz.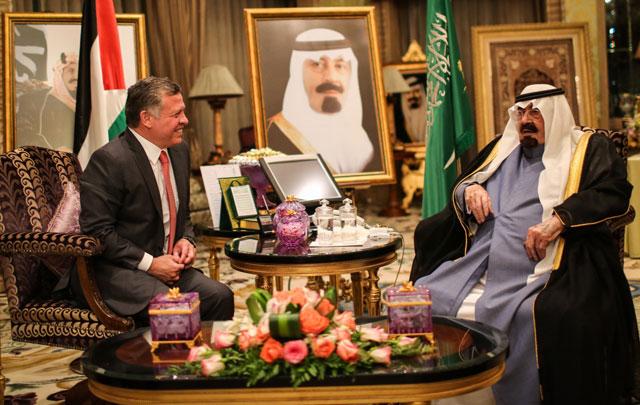 Dec 15,2014
His Majesty King Abdullah and Saudi Arabia's King Abdullah Bin Abdulaziz held a summit meeting in Riyadh on Sunday to exchange views on means to strengthen Jordanian-Saudi ties and addressed the latest regional developments.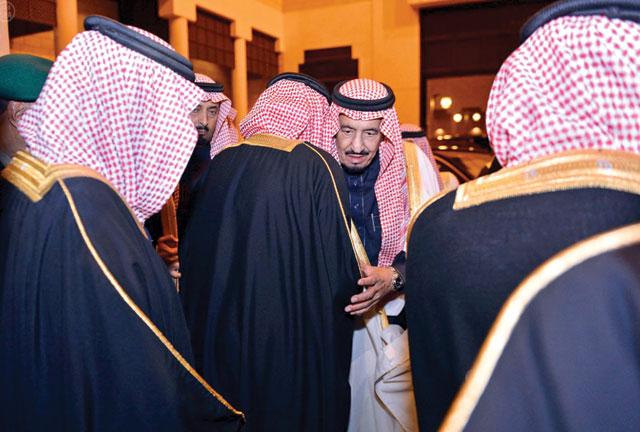 Jan 24,2015
His Majesty King Abdullah on Saturday flew to Saudi Arabia to pay respect over the death of Saudi Arabia's King Abdullah Bin Abdul Aziz, who passed away on Friday. 
Newsletter
Get top stories and blog posts emailed to you each day.