You are here
King issues initiative to restore Christ's Tomb in Jerusalem
By JT - Apr 10,2016 - Last updated at Apr 10,2016
AMMAN — His Majesty King Abdullah has issued a Royal Benefaction (makruma) to provide for the restoration of Jesus' Tomb in the Church of the Holy Sepulchre in Jerusalem, at His Majesty's personal expense.
The Royal Court said in a statement that it has "informed the Jerusalem Patriarchate of His Majesty's makruma in a letter sent to His Beatitude Kyrios Kyrios Theophilos III, Patriarch of the Holy City of Jerusalem and All Palestine and Jordan".
The patriarch "commended the generosity of His Majesty [who] has always been, and shall remain, the faithful Guardian and Custodian of the Christian and Muslim Holy Sites in Jerusalem. … His Majesty King Abdullah embodies in deed, and not only in word, the shared living of Muslims and Christians all over the world and particularly in the Holy Land", emphasising the Hashemites' "unique historic role in the preservation of both Christian and Muslim Holy Sites in Jerusalem and the Occupied Territories".
Patriarch Theophilos also said that this "continuing Jordanian Hashemite patronage has been an indelible source of support for all the churches in the Holy Land and all the Christians in the East".
Jordan's role in protecting Christian existence in the Holy Land is clear and undeniable. King Abdullah spearheads the efforts of all Jordanians to sow the seeds of love and brotherhood between Muslims and Christians, the patriarch was quoted as saying.
"We are reaping the fruits of these efforts in this age when sectarian wars are burning entire countries as can plainly be seen," the Patriarch added.
He stressed that King Abdullah presents the Palestinian cause as a top priority in all the international forums that the Monarch attends.
"His Majesty constantly reiterates that Jerusalem's Muslim and Christian Holy Sites are a red line, which Jordan will not permit to be crossed. Also, that Jordan continues to uphold its religious and historic responsibilities towards the entirety of Al Haram Al Sharif with the utmost commitment and seriousness …"
Theophilos added: "Our churches will continue to pray for the peace and security of Jordan, its army, its security agencies, its people, and its leader who justly and honestly continues the Pact of Omar. The Pact of Omar was instituted by the second successor of the Prophet Muhammad, the Caliph Omar Ibn Al Khattab. Through this pact, the Christians of the Holy Land lived without fear for their lives, the lives of their families and their property".
According to the statement, Theophilos has signed an agreement with the National Technical University of Athens (NTUA) in March 2016 to restore Jesus' Tomb, in cooperation with the Armenian Patriarchate of Jerusalem and the Franciscan Missionaries Serving the Holy Land.
"The agreement followed a study that was undertaken by specialists at NTUA and presented to a number of Christian religious leaders, the Jordanian ambassador to Athens, Palestinian and Greek officials," the Royal Court said.
Related Articles
Apr 14,2016
AMMAN — Christian leaders in Jordan and politicians this week praised His Majesty King Abdullah's Royal makruma to cover the expenses of the
May 06,2019
AMMAN — The Patriarch of the Holy City of Jerusalem, All Palestine and Jordan Theophilos III on Monday thanked His Majesty King Abdullah on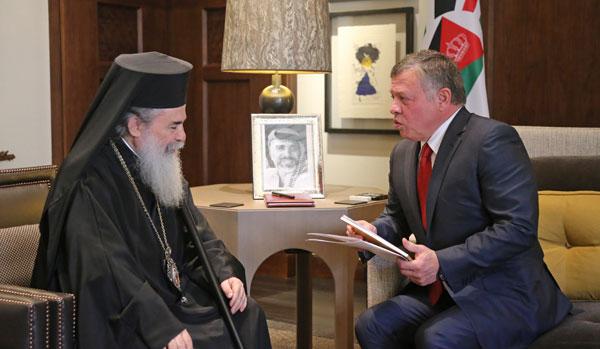 Apr 17,2016
AMMAN — His Majesty King Abdullah on Sunday discussed Jordan's efforts to protect Jerusalem's holy sites with Theophilos III, patriarch of t