You are here
King inaugurates World Science Forum at Dead Sea
Nearly 3,000 scientists, policymakers convene at lowest point on earth under the theme of 'Science for Peace'
By Mohammad Ghazal - Nov 08,2017 - Last updated at Nov 08,2017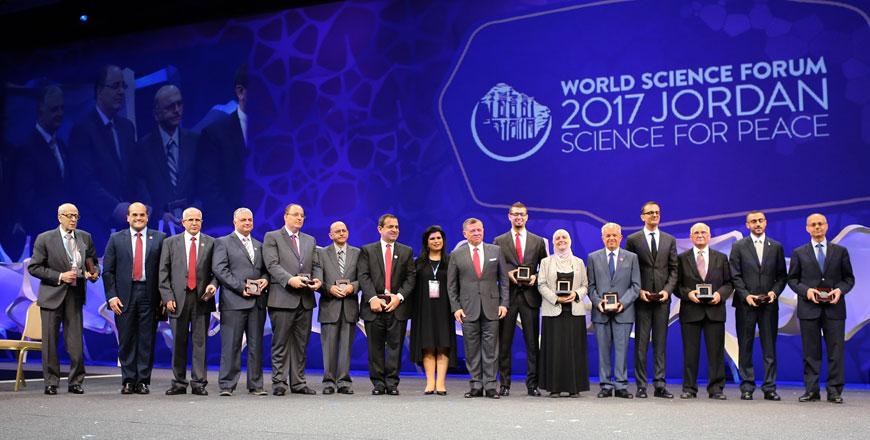 His Majesty King Abdullah poses for a group photo with prominent Jordanian scientists who made remarkable achievements in various fields on Tuesday (Photo courtesy of Royal Court)
DEAD SEA — His Majesty King Abdullah on Tuesday inaugurated the World Science Forum 2017, where some 3,000 scientists, policymakers, noble laureates and academics and investors convened under the theme of "Science for Peace".
His Majesty attended the inaugural session of the forum, which comes to the region for the first time with attendees from more than 120 countries.
King Abdullah also honoured several prominent Jordanian scientists who made remarkable achievements in various fields including medicine, pharmacology, mathematics, chemistry, physics, chemical engineering, mechanical and industrial engineering, among others.
In a tweet after the forum, King Abdullah expressed pride in Jordan's hosting of the forum, which represents the largest gathering of distinguished minds.
The King said that with knowledge, stability and development can be realised for "our world and the future of our generations".
The forum, first started in Hungary in 2003, was held outside Budapest for the second time.
This year's forum seeks to highlight the role of science in building and fostering a culture of peace at all levels of society, and the potential of science to create mechanisms that promise peaceful opportunity.
The WSF 2017 aims to give voice to science in Jordan and the Middle East, and to bring scientific thinking to public and private spheres.
In a speech at the opening of the forum, Hungarian President János Áder said the region is extremely rich in historical lessons, but "if we look at only its past 100 years, we can see that competition for natural resources — like arable land, water and energy — has almost always contributed to conflicts within and between countries."
"It is no accident that this year's forum focuses on the issues of food security, water and energy. All three of these areas are fundamental to security," said the president.
A series of historical examples proves that shortages of food and water also threaten social harmony.
"In 21st-century societies adequate energy supplies are also vital for social harmony. Without energy it would be impossible to operate all the industrial, transportation, security and health infrastructure that we have created in recent decades. Depleted energy supplies could lead to social collapse and war, "he said.
Stressing the key role of science in addressing today's challenges, he indicated that nowadays 2 billion people have no access to safe drinking water, and 4 billion have no access to adequate sanitation. In 36 countries, per capita water supplies have fallen to a critical level. Around 80 per cent of waste water is dumped, untreated, into the biosphere.
By the year 2050, two-thirds of humanity will live in cities. It is impossible to maintain and operate cities without sufficient energy, said the Hungarian president, calling on the attendees and scientists to explore the role of science in addressing these challenges.
HRH Princess Sumaya, Chair of WSF 2017 and President of the Royal Scientific Society that is organising this year's forum, underlined the significance of the event and the wide participation from representatives from across the world.
"We gather here this week to address the critical needs of our world, in which challenges are stark and shared… We attend with hope and ambition, and we must deploy all our energy to make science borderless to create solutions that demand our genuine commitment to collaboration," said the Princess.
"We must leave aside our fears and prejudices, and we must vow to create a future that is worthy of our human spirit," she added.
Addressing the attendees, the Princess added: "We host you here for World Science Forum 2017, as a facilitator of dialogue and an enabler of peace. We feel the pressures on our planet more acutely than many, and we know that the solutions we seek are above politics and beyond fear. Knowledge is the key to our future, and science and technology must be empowered to acknowledge those truths that are challenged today."
In his address, HRH Prince Hassan underlined the role of science in development.
Prince Hassan said that science is deployed to serve humanity and the wellbeing of humankind.
He also said challenges and crises in the region should not represent an obstacle that hampers innovation.
He highlighted Jordan's efforts in supporting science, stressing on the importance of exchanging studies and research among scholars in the region.
On the sidelines of the forum, King Abdullah, Prince Hassan and HRH Princess Sarvath attended the conferring of the Commander's Cross of the Hungarian Order of Merit by the Hungarian President on Princess Sumaya.
King Abdullah and the attendees also observed a video message recorded by the International Space Station's crew in which they stressed the importance of the forum and the role of scientists in building peace.
In a panel during the opening, László Lovász, president of the Hungarian Academy of Sciences, said that Jordan plays a vital role in the promotion of sciences in every aspect.
"Jordan has a growing commitment to the advancement of sciences," he said, underlining the need to use science to address development issues and foresee future challenges.
Noting that sciences can play a role in ending divisions, Lovász called on all scientists from across the globe to work together for peace.
Scientists and heads of international science bodies said that science was the key to address the challenges in today's world including climate change, water, nuclear power plants and food security.
For science to thrive, they called for creating the necessary environment and conditions which enable countries to advance and prosper.
Michio Kaku, theoretical physicist, best-selling author and renowned futurist said the role played by science to uphold peace was fundamental and pivotal.
"Science can create wealth, science can create prosperity, which are both key to peace," said Kaku.
Science, he said, is an essential player in empowering the powerless; "it is for all and for the benefit of all mankind", he added.
"Science helps poor countries leapfrog into the future and achieve prosperity," he added.
"In the absence of science, a vacuum is created, which can be used by demagogues to spread fear and unwanted ideologies and spread ignorance," said Kaku.
He added that science can lift millions of people up around the world, leaving no reasons for war and violence.
"The future belongs to the educated, dreamers and the curious young people and I see these young people in Jordan," said Kaku.
Related Articles
Apr 29,2017
AMMAN — HRH Princess Sumaya, the president of the Royal Scientific Society and the World Science Forum for 2017, on Saturday attended a high
May 10,2017
AMMAN — Jordan will host the world's biggest science event later this year, which will bring together 3,000 scientists from over 100 countri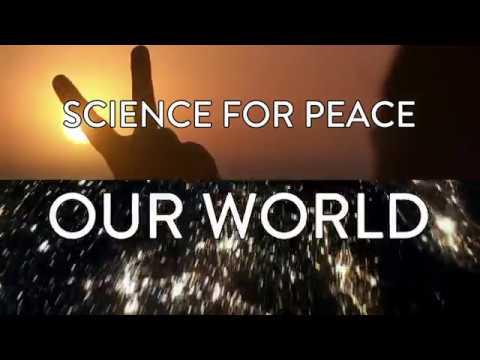 Oct 28,2017
AMMAN — World-renowned scientists, along with policymakers and experts in the scientific field will convene in Jordan on November 7 at the W
Newsletter
Get top stories and blog posts emailed to you each day.