You are here
King calls for stepping up efforts to enhance quality of local products, build R&D capacities
By JT - May 31,2020 - Last updated at May 31,2020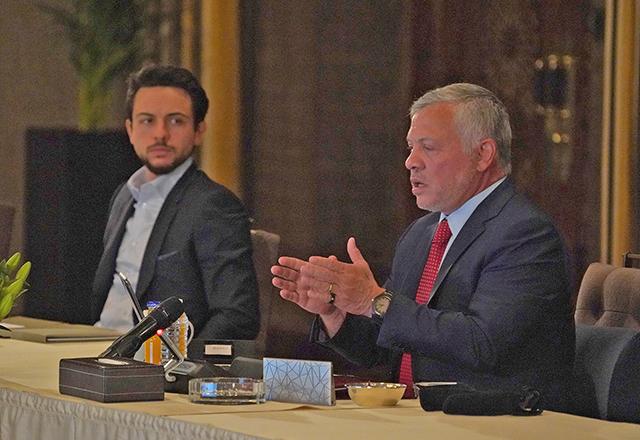 His Majesty King Abdullah and HRH Crown Prince Hussein meet with the steering committee to support the national pharmaceutical, medical supplies and food processing industries at Al Husseiniya Palace (Photo courtesy of Royal Court)
AMMAN — His Majesty King Abdullah on Sunday called for stepping up efforts to develop local product specifications and quality, and expanding the pharmaceutical, medical supplies and food processing industries to cover domestic needs and increase exports.
At a meeting with the steering committee to support the national pharmaceutical, medical supplies and food processing industries at Al Husseiniya Palace, attended by HRH Crown Prince Hussein, King Abdullah urged identifying an entity to implement the expansion of these industries within a clear timeframe, according to a Royal Court statement.
The steering committee was formed by Royal directives in mid-April to expand local production of food, medicine and medical supplies.
His Majesty noted that he will follow up on the progress and development of these plans in order to support national industries to bolster the economy, the statement said.
The King said that Jordan should invest in the opportunities available during the current period to support national industries and to benefit from existing strategic partnerships, such as with Gulf Arab countries.
Stressing the importance of building Jordan's capacities in research and development, His Majesty said that all national institutions should cooperate and work harmoniously, not competitively, according to the statement.
The King also called for institutionalising scientific research and ensuring its sustainability within a clear framework, in addition to increasing coordination among institutions in cooperation with the private sector.
His Majesty noted the importance of identifying agricultural land in Jordan and the types of crops best suited for cultivation.
Speaking at the meeting, Prime Minister Omar Razzaz said that the steering committee oversees three sub-committees on developing pharmaceutical, medical supplies and food processing industries, with a focus on bolstering research and development in coordination with universities and national scientific institutions, as well as the private sector.
Heads of the three sub-committees highlighted plans under way to expand each sector, the statement said.
Newsletter
Get top stories and blog posts emailed to you each day.