You are here
Jordanians remember Nakba with pledge to defend Palestinians' legitimate rights
By Renad Aljadid - May 15,2018 - Last updated at May 15,2018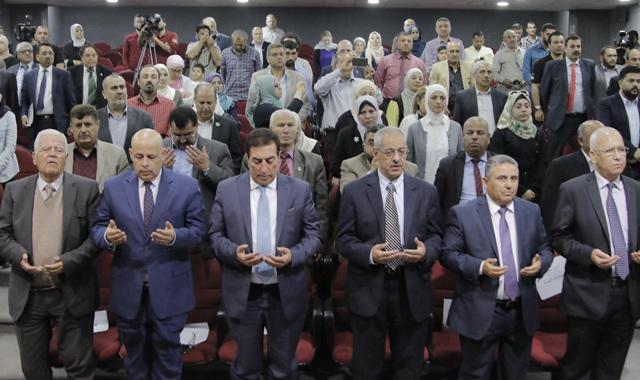 Participants recite verses of Koran for the Palestinians who were killed by Israeli occupation forces during the Palestinian-Israeli conflict (Photo by Osama Aqarbeh)
AMMAN — Under the patronage of the Lower House Speaker Atef Tarawneh, scores of Jordanians on Tuesday gathered at the Professional Associations Complex in Amman to commemorate the 70th anniversary of the Palestinian Nakba (catastrophe).
"Throughout the 70 past years, the Palestinians have taught the whole world great lessons of sacrifice and resilience, sending a powerful message that 'we are still here'," Tarawneh said in a speech opening the event, adding, "It is no surprise that the US has not responded to the international consensus which refuses the violations in Palestine, but what is surprising is the Arab silence."
"The unilateral" decision to move the American embassy to Jerusalem at the time when Palestine marks its 70th anniversary of the Nakba is more than just bias towards Israel, but an attempt to threaten peace and stability in the region.
Tarawneh stressed that there should be more internal dialogues among the Arab leaders without any "external intervention" in order to take a joint action that grants the Palestinians their right of an independnet state of their own with Jerusalem, "as a whole", as its capital.
Tarawneh said: "all Jordanians are standing in one line under the leadership of His Majesty King Abdullah to support our Palestinian brothers and fight for their legitimate rights."
Speaking on behalf of the Jordanians Professional Associations, President of the Jordan Medical Association Ali Al Ebous said that "Palestine has witnessed several catastrophes since Belfour Declaration till Trump's decision to relocate Washington's embassy from Tel Aviv to Jerusalem This is an attempt that aims at Judaising Jerusalem."
For his part, President of the preparatory committee Yaser Abu Sneineh said that 70 years have passed and people are still dying."We should refuse all resolutions and normalisation with Israel."
Organised by the preparatory committee of the Nakba anniversary at the Professional Associations Complex, the event also included Palestinian folkloric songs and the recitation of poems on the occasion.
Related Articles
May 16,2018
AMMAN — The Islamic Action Front (IAF) on Tuesday organised a protest in Amman to denounce the opening of the US embassy in Jerusalem and co
May 15,2017
AMMAN — The Muslim Brotherhood Group on Monday issued a statement on the 69th anniversary of the Nakba, or "Catastrophe".The group said that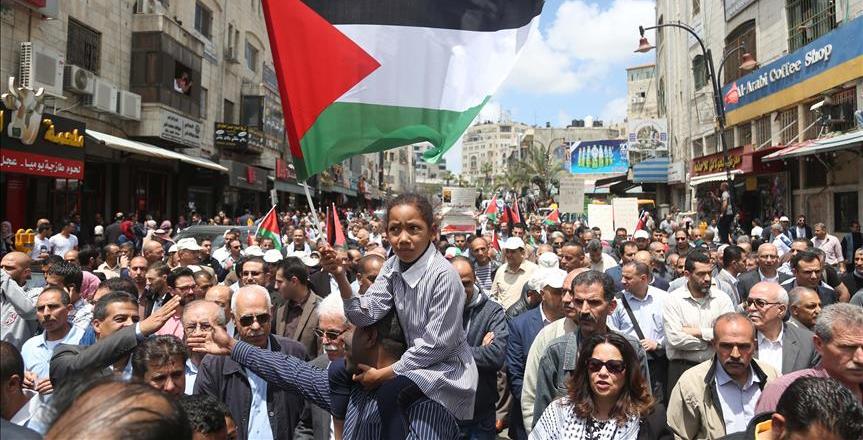 May 15,2018
RAMALLAH – Palestinians in the occupied West Bank staged a general strike on Tuesday in mourning of dozens of fellow Palestinians mart
Newsletter
Get top stories and blog posts emailed to you each day.