You are here
Jordanian youth: Crown Prince conveyed our message loud and clear at UN
By Fares Al Abed - Sep 23,2017 - Last updated at Sep 23,2017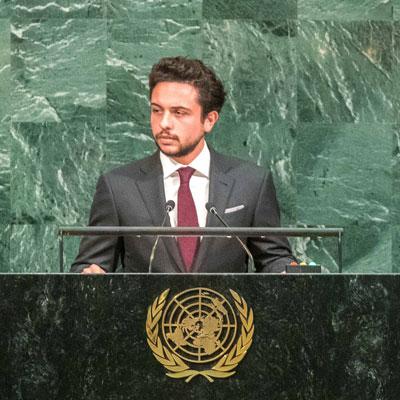 HRH Crown Prince Hussein addresses the the 72nd Session of the UN General Assembly on Thursday (Photo courtesy of Royal Court)
AMMAN — Young people from across the board agreed that HRH Crown Prince Hussein said what world needs to hear and was speaking their own minds when he outlined the challenges facing the young generation worldwide, especially in Jordan.
In Jordan's speech at the 72nd Session of UN General Assembly on Thursday, His Royal Highness said that he stood before the gathering not only as a representative of Jordan, but also as a member of the largest generation of young people in history, which is facing various challenges, foremost of which is unemployment, which, he said, requires drastic improvement to the investment climate, enhancing integrity and accountability, advancing the educational system and supporting young entrepreneurs.
Abdel Rahman Oleimat, a 21-year-old student who is still trying to obtain his Tawjihi certificate, said that he has a negative outlook even if he gets a degree because his generation is paying the price for all the instability and war around Jordan, manifested particularly in the refugee crisis.
"As His Highness said, Jordan has done what is right and welcomed refugees with open arms. But that has had a toll on employment chances for college graduates and others", Oleimat stressed, adding that a few years ago, regular salaries were better than now, but with the refugees competing for the jobs available, the pay is down.
The winner of the recent Youth Innovation Forum's (Ebtekarthon) top award, Nasser Badareen, 18, looks at the refugee issue from a broader perspective. He said that he was dreaming of continuing his study abroad, but due to problems caused by some refugees in Europe and other host countries, his chances to have a visa diminished.
However, Oleimat and the other interviewees stressed that they do not have anything against refugees, and that they "wish everything good" for them and for their fellow citizens, but the world community is not helping, leaving both Jordanians and their guests stranded in the cold.
Loay Al Sadeq, 22, has finished school and plans to apply for college when he makes enough money from his job at a gaming centre. He agrees that unemployment is the major challenge.
"If you ask anyone you know, 'what are the problems you are facing?' they will say it's the lack of job or money and when the job is found, the income is hardly enough for a young single man to meet the minimal need, let alone a married one with a family?" he stated.
Against the backdrop of such a state of despair, Mohammad Al Qudah, a 17-year-old student, praised the Crown Prince for conveying the message "loud and clear" to the largest global gathering of policymakers.
"I want to thank HRH Crown Prince for delivering the message in a logical way, because we are a country that lacks resources and doesn't have a strong economy, so his message highlighted morals and values: He placed the world in front of a 'moral mirror', speaking on behalf of the Jordanian society".
Qudah also agreed with the Crown Prince when he said that the world is spending about $1.7 trillion on arms and financing wars, but cannot offer support with less than $1.7 billion to support Syrian refugees and host communities.
It is not only about money and economic opportunity, according to Qudah, who said lack of the feeling of security and safety due to regional turbulence adds to the negative state of mind among youth.
"I live in an area near the Jordanian-Syrian borders and I really feel threatened because of the war next-door. It's an odd thing to feel that way, given that I have lived a peaceful life since ever in our country".
The problem does not stop at lack of jobs and the sense of insecurity, the young people said in telephone interviews.
According to Raniem Al Dabobi, a student, 17, the declining quality of education and health, as a result of the pressures on Jordan's public services and infrastructures, will create a generation that is poorly prepared to compete for opportunities in a world where competition is growing fiercer and bitterer.
Oleimat further warned that such a generation, with no positive outlook or hope for a better future, would be vulnerable to extremists' recruitment calls. "Young people have needs and if these needs are not met, they will be weak before any party that offers to give them what they are looking for, including terrorists."
Related Articles
Aug 22,2015
MADABA — Youth ambassadors and peace builders from all over the world convening in Jordan adopted the Amman Youth Declaration on Youth, Peac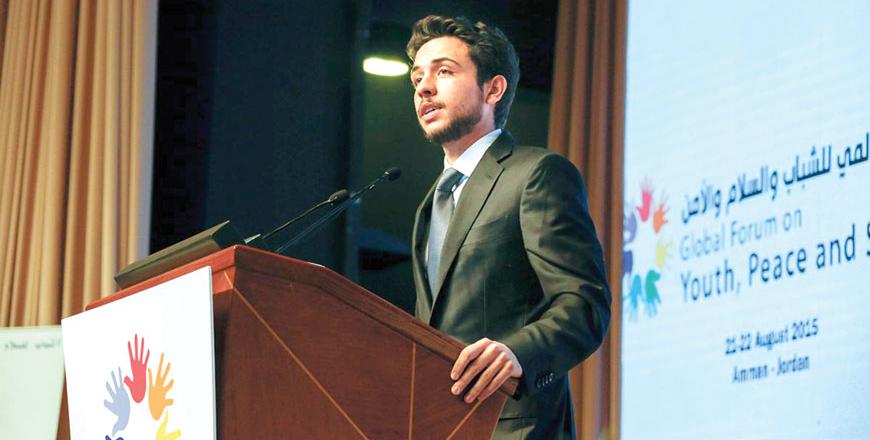 Aug 22,2015
MADABA — HRH Crown Prince Hussein on Friday said those who possess the key to young minds can unlock the doors of the future,and stressed on
Oct 26,2017
AMMAN — A group of leading young people presented to HRH Crown Prince Hussein on Wednesday models of their creative projects hosted by FikrT
Newsletter
Get top stories and blog posts emailed to you each day.