You are here
Jordanian singer turning heads on 'The Voice'
By Laila Azzeh - Dec 24,2015 - Last updated at Dec 24,2015
Jordanian 'The Voice' contestant Nedaa Sharara with Egyptian singer Sherine Abdel Wahab during a recent episode of the talent show (Photo courtesy of Nedaa Sharara Fans Facebook page)
AMMAN — Three of the judges on "The Voice: Ahla Sawt", the Arabic version of the popular Dutch TV show, turned around upon hearing Nedaa Sharara's voice in the "blind auditions" last month.
The Jordanian contestant, whose voice has been described by the judges as "mesmerising", "authentic" and "incredibly strong", will compete in the final performance on Saturday after passing the battle and live performance phases.
"Her voice is great and the way she plays with her vocals is phenomenal," Jordanian Artists Association President Sari Asaad told The Jordan Times on Wednesday.
Sharara's voice is not her only distinctive feature. She also wears a headscarf.
"With her veil, Nedaa sends to the world a message that an artist can be famous and modest. She also proves that Islam is a religion of tolerance and beauty," Asaad said.
However, not all agree. The fact that the singer is veiled stirred controversy among some people, many of whom took to social media to express their frustration over her decision to take part in the programme. "Hijab [veil] is a decision you made out of fear of God. How could you sing while knowing that singing is a sin?" one person commented on her official Facebook page.
Another urged her to take off the headscarf as she "offends Islam when she sings while wearing it".
On the other hand, support for the Jordanian artist is also evident on social media websites, with many urging her "not to listen to voices of backwardness".
"You resemble a role model of real artists who pay more attention to their talent than their looks. We need more artists like you," Ali Kayed commented on her official Twitter page.
"Do not listen to those who want to shackle you. They are enemies of beauty and life," wrote Odai Khattab.
Some Twitter users drew parallels between Sharara and Italian nun Cristina Scuccia, who won the 2014 season of "The Voice of Italy".
Even the US embassy in Amman voiced its support.
"Best of luck to [Nedaa Sharara] tonight as she represents Jordan in the semi-finals of The Voice, We'll be rooting for her," the embassy said on its official Facebook page on December 19, ahead of the semi-finals.
Sharara will compete with her rivals in the last live performance, to be held in Beirut.
Whether a winner or not, the artist, whose full name literally translates into "call of a spark", will be present in the minds of Jordanians for a long time.
"Whether she wins or not, Nedaa is our star and we will be waiting for her to come back home to celebrate her success," Asaad said.
If she wins, Shrara, who is on Egyptian singer Sherine Abdel Wahab's team on the talent show, will sign a record- ing contract.
Related Articles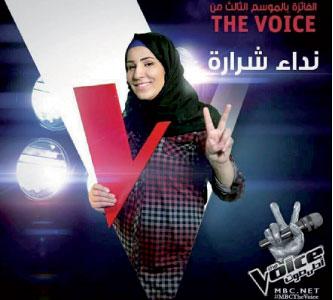 Dec 28,2015
AMMAN — Jordanian Nedaa Sharara on Saturday won the latest season of "The Voice: Ahla Sawt", the Arabic version of the popular Dutch TV show
Aug 24,2017
AMMAN — Andrea Bocelli has been the main inspiration for Jordanian soprano Dima Bawab to get involved in the opera scene, prompti
Apr 13,2016
If you have ever watched Peter Sellers imitate the Indian accent, you may get influenced into thinking that all of us have a singsong voice.
Newsletter
Get top stories and blog posts emailed to you each day.