You are here
Jordan to use Saudi fund to rehabilitate sewage network, int'l highway
May 11,2014 - Last updated at May 11,2014
AMMAN — Jordan and Saudi Arabia on Sunday signed three agreements to finance development projects at a total of $232 million, including a main highway known for a relatively high rate of road accidents.
Of the $232 million, $155 million will be used for the reconstruction of the road linking the central city of Zarqa with the Jordanian-Saudi border at the Omari crossing point.
The road has over the years seen fatal accidents including Jordanian as well as Saudi nationals using the road, blamed mainly on the bad condition of the international road, according to reports.
A total of $54 million will go to construct and rehabilitate other roads, while $23 million will be spent on two sewage water pumping stations in Zarqa Governorate, the Jordan News Agency, Petra, reported.
The agreements are a continuation of previously signed financing deals between the two sides, totalling $666.4 million, under the first stage of Saudi Arabia's grant to the Kingdom as part of its contribution to the Gulf Cooperation Council's (GCC) $5 billion grant.
These funds are earmarked to serve projects in several sectors, including health, education, water and transport.
Minister of Planning and International Cooperation Ibrahim Saif, who signed the agreements with the Saudi fund's deputy chairman, Yousef Al Bassam, expressed Jordan's appreciation for Saudi Arabia's support.
He stressed the significance of the schemes in light of the political instability and repercussions of the Syrian crisis on the Kingdom, according to Petra.
The GCC grant aims at financing development projects in the Kingdom during the 2012-2016 period, with Saudi Arabia, Kuwait, the UAE and Qatar paying $1.25 billion each.
Related Articles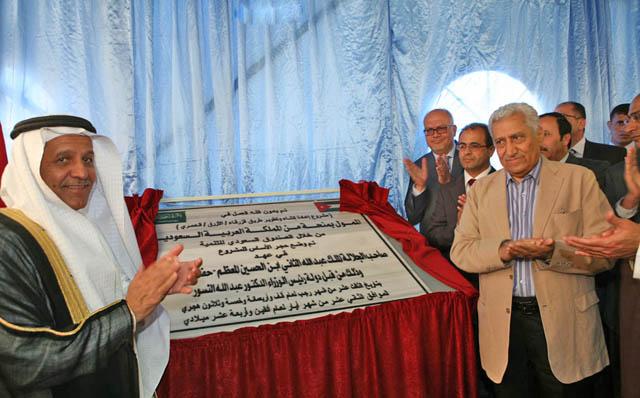 May 12,2014
Prime Minister Abdullah Ensour on Monday laid the foundation stone for a project to reconstruct and develop the Azraq-Omari road, funded by Saudi Arabia.
Jan 26,2015
Jordan spent 92 per cent of the Gulf Cooperation Council's (GCC) grant amount allocated for 2014, compared with 86 per cent in 2013, the Planning Ministry said Sunday.
Dec 08,2014
The Ministry of Planning and International Cooperation on Sunday said the overall amount of foreign assistance, grants and soft loans committed to Jordan by international donors reached $1.74 billion (JD1.2 billion) by the end of November. 
Newsletter
Get top stories and blog posts emailed to you each day.