You are here
Jordan, US discuss prospects of cooperation in port development, investments in Aqaba
By JT - Feb 17,2019 - Last updated at Feb 17,2019
AMMAN — Aqaba Special Economic Zone Authority (ASEZA) Vice Chief Commissioner Imad Hijazin on Sunday met with US Chargé d'Affaires in Amman Jim Barnhart.
In the meeting, which took place during Barnhart's visit to Aqaba, both sides discussed the means of cooperation in the investment field and the importance of developing the port system in Aqaba, the Jordan News Agency, Petra, reported.
Hijazinstressed the importance of signing the memorandum of understandingwith the Jordanian-Saudi Investment Fund for the construction, management and operation of the Maan Land Port, and linking it by rail with the port system of Aqaba and with the containers port to ensure a "qualitative logistic shift" that meets the import and export needs of the country, as well as the needs of regional countries affected by wars and conflicts, which are currently going through a reconstruction process.
He said that the ASEZA seeks to increase the development gains through distributing investments in the governorate's peripherals, noting that six developmental zones enjoyingfull ASEZA privileges and incentives have been established in the Qweira district, 50km to the north of Aqaba City, to attract industries and create jobs for residents.
Hijazin outlined the ASEZA's strategy for the years 2018-2025, where progress is measurable through specific indicators.
Barnhart said that 16 years ago, during the initial talk about the ASEZA's master plan and the project to bring in a private company to manage the port, the issue triggered a lot of interest and people raised many issues, but after all these years, the Aqaba Container Terminal has evolved into one of the world's leading and most efficient port operators, an achievement for Jordan and the Jordanian people.
The diplomat added that the US is keen to further boost ties with the Kingdom.
It is good to see the progress made so far, Barnhart said, as ships used to wait for a long time to unload their cargo in the past, while they come now and unload in 45 minutes, which, he said, underlines the strengths of the private sector and its important role in the country's development.
Barnhart was briefed by Mohammad Mubaideen, director general of the Aqaba Company for Ports Operation and Management, on the operational system of new Port of Aqaba in terms of its importance to the Jordanian national economy and the economies of neighbouring countries.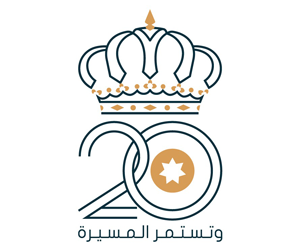 Newsletter
Get top stories and blog posts emailed to you each day.