You are here
Jordan Rugby players determined to 'try' for Asian tournament success
By George Maddison - Feb 22,2017 - Last updated at Feb 22,2017
The Jordanian national rugby team (Photo courtesy of Jordan Rugby Facebook page)
AMMAN — "1-2-3, JORDAN!"
A breezy evening in early February at Amman FC's training ground and 12 men stand drained on the touchline. Six of them stand before a row of tyres, eyes filled with determination and legs heavy with exhaustion.
The whistle blows, and what follows is not only an immense show of mental and physical strength, but a display of the power of camaraderie, as the men strain through one of their final training sessions.
They are approaching the end of a long, arduous journey, with a common goal: selection to represent Jordan Rugby in an upcoming pan-Asian rugby competition.
The first weekend in March will be Jordan Rugby's chance to put themselves on the rugby seven's world map, and more importantly, it will be the first time since 2014 that the Kingdom has competed on the international stage.
The Asia Rugby Trophy (ART), hosted by Qatar, will see 11 teams, each of seven players, coming from across the continent to compete.
Held in a group stage format, the tournament will see Jordan initially play Singapore and Pakistan, with the former being the tournament favourite.
Graeme Forbes, an employee at the British embassy and the team's head coach, explained how the 14 men standing on the touchline, panting and searching for a last ounce of strength, got there.
He said the two main Jordanian rugby clubs in Amman, Nomads and Citadel, put forward their own players — all "eager to learn" and to "adapt" to the style of play.
There was an initial pool of 24 hopefuls from different backgrounds who had played against each other in fixtures for years. After two weeks of training, however, the two dozen men were whittled down to just 14.
Forbes spoke of the immense pride he has felt coaching the team, and said he believed that Jordan can "go to Qatar and do something special".
With its origins in the English public school system, rugby is a physical sport renowned for building team spirit and a sense of brotherhood.
In its traditional form, rugby teams are made up of 15, however, the tournament will adopt the format of rugby sevens, a much faster and more arduous form of the game, with only seven players per team.
Jordanian assistant coach Freih Kawar recalled first seeing the sport in 1999 while watching the rugby world cup with his brother. He has played and worked at club level in Jordan, before bringing his experience to the national team this year.
For Kawar, rugby is something that he wants "to be in society for years to come", saying that it was "unexpected to see the boys reach this level".
Jordan's participation in ART will be about more than just the team's success in the tournament; it could impact the future of rugby in the Kingdom.
The game in Jordan remains for many a niche pastime and does not enjoy as wide a following as it does in Europe. The coaches, however, stated the importance of setting an example for the younger generations.
Forbes said his proudest moment on this journey was "working with a bunch of guys willing and wanting to set an example, in what is such a young sport". He also revealed that he is continuing to deliberate the idea of setting up a rugby youth system in Jordan.
The head coach told The Jordan Times that "Jordan Rugby, with [the] continued support of the Jordan Olympic Committee and Mahmoudia Motor Co, needs to use the momentum from this tournament to show young people that this [rugby] is a realistic chance for them to represent their country".
Jesse Lipetz-Robic, a Welsh student studying Arabic in Amman, is the team's manager.
He grew up playing rugby and highlighted the importance of team sport during his childhood. He said he is "a firm believer that sport brings people together and that rugby offers many lessons which transcend everyday life".
There are "no barriers within the team. Playing for Jordan has opened up the lives of many of these men and it has brought them immense pride," Lipetz-Robic added.
In a fractured world, many look for solace in unexpected places to help alleviate everyday pressures. The positive impact the game has had on these players, individually and collectively, suggests the importance of sports, especially team sports, in society today.
As the men sprinted in the last shuttle run, pride fuelling their strides, they all came closer to wearing their national colours and representing the Kingdom at the highest level; in March, and beyond, all of them will hope that that is where Jordan will stay.
Related Articles
Oct 04,2017
AMMAN — Jordan has sent out a strong message to the big guns coming into town for this weekend's third Arab Rugby 7s to be hosted in Amman t
Nov 25,2017
AMMAN — Jordan is taking four teams to compete at one of the world's biggest rugby festivals — the Emirates Airline Dubai 7s — next week, ac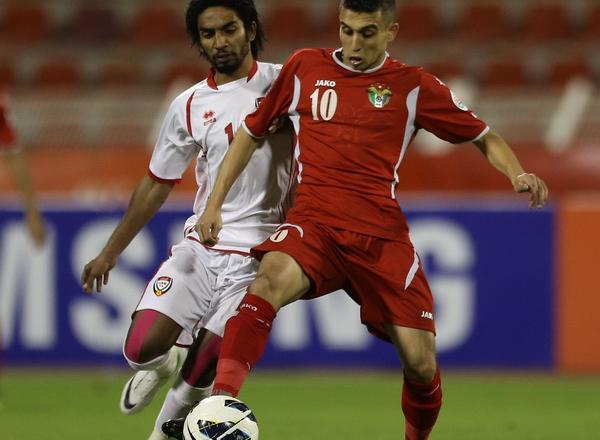 Jan 20,2014
Head coach of the Jordanian U-22 national team Islam Thiabat suffered a head injury that required stitches while celebrating his team's 1-0 victory over the United Arab Emirates Sunday evening in the Asian Football Confederation (AFC) U-22 Championship in Oman, according to the AFC website.
Newsletter
Get top stories and blog posts emailed to you each day.