You are here
Jordan remembers King Hussein
By JT - Feb 06,2018 - Last updated at Feb 06,2018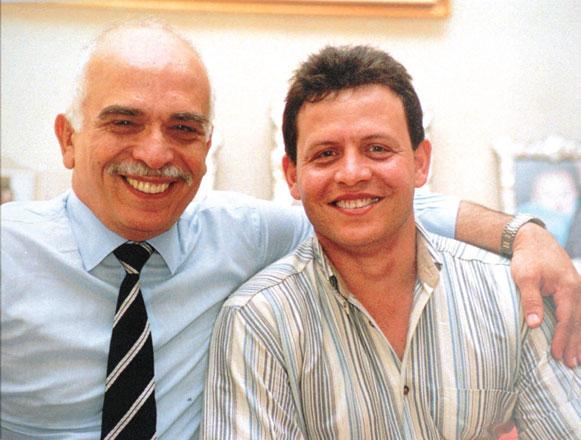 This photo taken in March 1998 shows His Majesty the late King Hussein with His Majesty King Abdullah (Photo courtesy of Royal Court)
AMMAN — Jordanians on Tuesday marked the 19th anniversary of the passing of His Majesty King Hussein, who died at the age of 63 on February 7, 1999, following a battle with cancer.
Also on Tuesday, Jordanians marked the anniversary of King Abdullah's assumption of constitutional powers, as he was proclaimed King on the same day.
King Abdullah received several cables from senior officials and officers congratulating him on the assumption anniversary and voicing their support for efforts for the betterment of Jordan, a Royal Court statement said.
King Hussein was born on November 14, 1935, as the eldest son of King Talal and Queen Zein Al Sharaf.
He studied at the Islamic Scientific College and then enrolled at Victoria College in Alexandria. In 1951, he entered Harrow College in England before receiving his military education at the Royal Military Academy Sandhurst in England, from which he graduated in 1953.
Hussein was proclaimed King of Jordan on August 11, 1952, and a Regency Council was appointed until his formal accession to the Throne on May 2, 1953, when he assumed his constitutional powers after reaching the age of 18, according to the Islamic lunar calendar.
Throughout his reign, King Hussein worked hard to improve his country and raise citizens' living standards. He also focused on building an economic and industrial infrastructure that advanced the quality of life of the Jordanian people.
During his reign, primary education became mandatory and schools were established across the Kingdom's cities, villages and rural areas, allowing Jordan to become one of the leading Arab countries in terms of literacy.
King Hussein also focused on improving higher education, with dozens of public and private universities and colleges built under his rule.
He also sought throughout his reign to promote peace in the Middle East.
After the 1967 Arab-Israeli war, he was instrumental in drafting UN Security Council Resolution 242, which calls on Israel to withdraw from all Arab lands occupied in the 1967 war, in exchange for peace. The resolution has served as the benchmark for all subsequent peace negotiations.
In 1991, King Hussein played a pivotal role in convening the Madrid peace conference, providing an "umbrella" for Palestinians to negotiate their future as part of a joint Jordanian-Palestinian delegation.
The 1994 peace treaty between Jordan and Israel was a major step towards achieving a just, comprehensive and lasting peace in the Middle East.
The late King's commitment to democracy, civil liberties and human rights has also helped pave the way for Jordan to become a model state in the region.
At the time of his death on February 7, 1999, King Hussein was the longest serving executive head of state in the world.
On the occasion, a seminar was held on Tuesday at the University of Jordan (UJ) titled "Al Hussein and the art of ruling: Personal testimonies".
Royal Court Chief Fayez Tarawneh, UJ President Azmi Mahafzah, former ministers and senior officials attended the seminar.
Tarawneh said: "King Hussein was one of the Arab and international geniuses, and his tremendous achievements live still."
For his part, former foreign minister Kamel Abu Jaber outlined the life and reign of King Hussein describing him as a "pan-Arab and world leader".
Former Royal Court chief and multiple-time minister Jawad Anani said: "King Hussein will remain in the memories of Jordanians forever."
Related Articles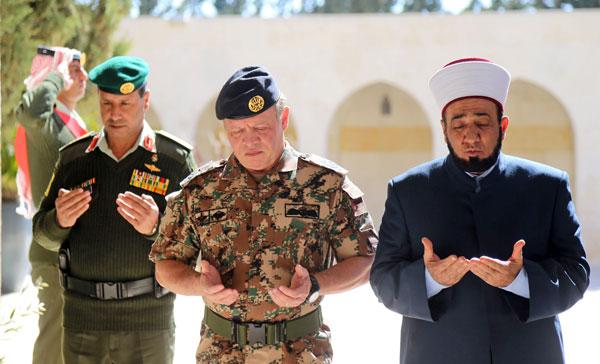 Feb 07,2017
AMMAN — Jordan on Tuesday marked the 18th anniversary of the death of His Majesty King Hussein, whose reign spanned nearly five decades.His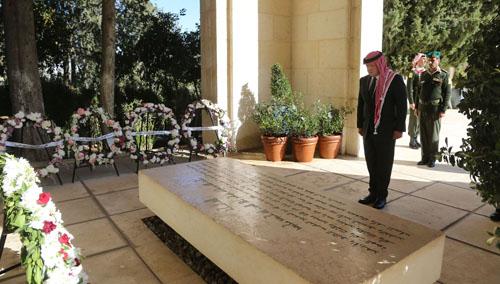 Feb 07,2015
His Majesty King Abdullah on Saturday visited the tomb of King Hussein on the 16th anniversary of his death.
Nov 13,2016
AMMAN — Jordan today marks the 81st anniversary of the birth of His Majesty the late King Hussein.On the occasion, His Majesty King Abdullah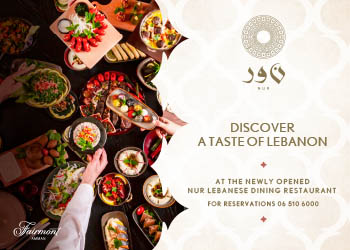 Newsletter
Get top stories and blog posts emailed to you each day.