You are here
Jordan is one tribe, my tribe — King
'Law should be applied to all indiscriminately'
By JT - Aug 06,2017 - Last updated at Aug 06,2017
His Majesty King Abdullah speaks during a meeting with House leaders in Amman on Sunday (Photo courtesy of Royal Court)
AMMAN — His Majesty King Abdullah on Sunday thanked lawmakers for their efforts during the extraordinary session, a Royal Court statement said.
During the session, the House endorsed a number of legislations to improve the judicial system, after the government made changes to or introduced 16 laws, responding to recommendations by the Royal Committee for Developing the Judiciary and Enhancing the Rule of Law.
At a meeting with Lower House Speaker Atef Tarawneh, members of the House Permanent Bureau and heads of committees, His Majesty stressed the importance of coordination between the Chamber and the government.
The legislative performance during the last session was within the expected level, the King said, stressing that improving the performance of committees serves the overall mission of the legislature.
During the meeting, held at Al Husseiniya Palace, His Majesty pointed out the significance of the upcoming municipal and local governorate councils elections, slated for August 15. He said the polls will ensure people's involvement in decision making concerning developmental priorities through electing governorate councils.
Meanwhile, King Abdullah outlined the challenges currently faced regarding the Palestinian cause and Jerusalem.
In this regard, the Monarch said there would be no breakthrough in the peace process without a US push for a solution.
He stressed that without the Hashemite Custodianship of Jerusalem's holy places and support for Jerusalemites, the shrines "would have been lost years ago".
The future of the Palestinian cause is at stake and applying solutions is becoming increasingly difficult.
The King and the MPs also discussed the assault against a police patrol in Maan, 220km south of Amman, on Saturday. His Majesty stressed the importance of observing the rule of law and applying it to all indiscriminately. Security agencies, he reiterated, are " a red-line" that should not be crossed.
"All have to look at Jordan as one tribe; Jordan is my tribe", the King concluded.
Related Articles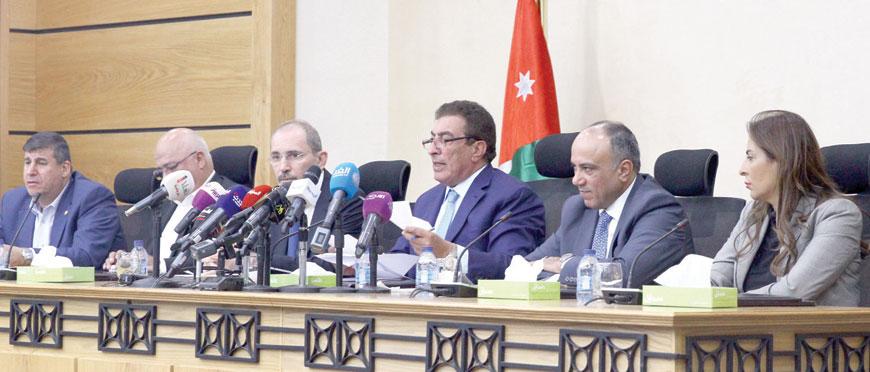 Aug 19,2019
AMMAN — Safeguarding Muslim and Christian holy sites in Jerusalem is not a response for a pressing issue, but a consistent policy and dilige
Nov 12,2022
AMMAN — His Majesty King Abdullah on Sunday is scheduled to inaugurate the 19th Parliament's second ordinary session with a Speech from the
Apr 18,2022
AMMAN — The Lower House on Monday approved amendments to the Independent Elections Commission Law. The bill is part of efforts to imple