You are here
Jordan marks 15th anniversary of King's coronation
By JT - Jun 08,2014 - Last updated at Jun 08,2014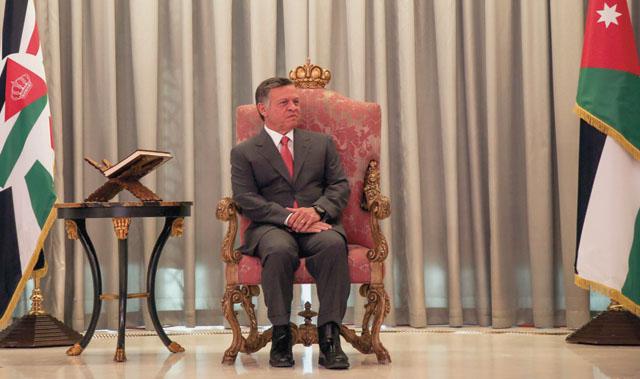 AMMAN — Jordan celebrates the 15th anniversary of His Majesty King Abdullah's coronation on Monday.
On the occasion, the King has received cables from several heads of Arab states, and senior officials and officers, the Jordan News Agency, Petra, reported.
King Abdullah also received messages from senior military and civil officers marking Army Day and the 98th anniversary of the Great Arab Revolt, when the emir of Mecca and the King's great-great-grandfather, Sharif Hussein Bin Ali, led an uprising against Ottoman rule in the region.
Since his coronation on June 9, 1999, the King has embarked on comprehensive democratic reform in the Kingdom.
In particular, he has focused on improving Jordan's capabilities as a modern country, emphasising investment in the Kingdom's human resources and innovation as a means to combat the nationwide shortage of natural resources.
The Kingdom, under His Majesty's rule, took the initiative to implement much needed political and economic reforms, including constitutional amendments and a new Elections Law, under which last year's parliamentary elections were held, triggering the parliamentary government experience that is expected to mature over the coming parliamentary cycles.
The September 2011 constitutional amendments necessitated the enactment or amendment of several new laws, including those that mandated the establishment of the Independent Elections Commission and the Constitutional Court.
Currently, the government — under Royal directives — is working with Parliament to improve local governance in a way that increases citizens' participation in the decision-making process based on a roadmap that aims to develop decentralisation and laws governing political reform, including municipal and parliamentary elections.
Throughout the past decade-and-a-half, the King has carried the banner of tolerance and coexistence, launching the "Amman Message", to portray the true essence of Islam, which is based on moderation and rejects extremism.
In addition, the UN General Assembly adopted the King's initiative "World Interfaith Harmony Week" in October 2010.
His Majesty's efforts to entrench interfaith tolerance have made Jordan a model country in religious coexistence, a matter consolidated by Pope Francis' recent visit to the Kingdom.
The King also sees economic reform as a major concern, directing Prime Minister Abdullah Ensour's government in March to prepare a 10-year economic blueprint that would ensure consistency, increased competitiveness, productivity and self-reliance.
The ultimate goal, His Majesty said, is to achieve comprehensive development and ensure Jordanians get a "decent living and hope for a better future".
Related Articles
Jun 09,2016
AMMAN — Jordan celebrates the 17th anniversary of His Majesty King Abdullah's coronation on Thursday.Since his coronation on June 9, 1999, t
Jun 10,2018
AMMAN — Jordan on Saturday celebrated the 19th anniversary of His Majesty King Abdullah's coronation, as well as Army Day and the 102nd anni
Jun 08,2015
AMMAN — Jordan celebrates the 16th anniversary of His Majesty King Abdullah's coronation on Tuesday.On the occasion, the King and HRH Crown
Newsletter
Get top stories and blog posts emailed to you each day.