You are here
Jordan lauds move to ease humanitarian situation in Yemen
Safadi meets counterparts on sidelines of Arab alliance's meeting in Riyadh
By JT - Jan 22,2018 - Last updated at Jan 22,2018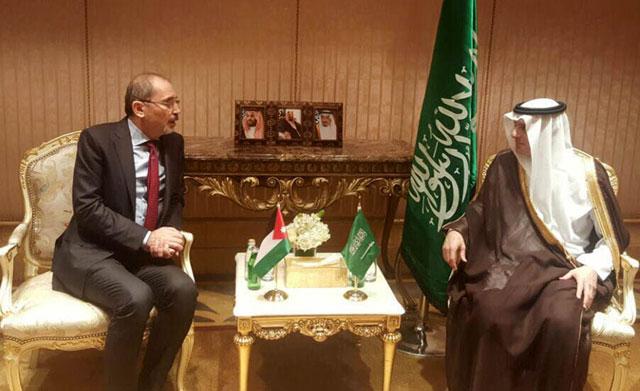 Foreign Minister Ayman Safadi meets with his Saudi counterpart Adel Jubair in Riyadh on Monday (Petra photo)
AMMAN — Foreign Minister Ayman Safadi on Monday participated in the meeting of foreign ministers of countries taking part in the alliance to support legitimacy in Yemen to announce a comprehensive plan that aims at improving the humanitarian situation in the war-torn country.
The plan includes a financial support of some $1.5 billion, boosting the capacity of Yemeni ports through providing them with cranes, increasing the numbers of land crossings and airports, as well as establishing safe corridors, the Jordan News Agency, Petra, reported.
Safadi highlighted the importance of the humanitarian plan, announced by the Saudi-led alliance, in improving the humanitarian conditions of the Yemeni people, whose suffering has to end through a political solution that guarantees the unity of the country and maintains its legitimacy according to UN Security Council Resolution 2216 and relevant agreements.
Foreign ministers of Egypt, UAE, Bahrain and Djibouti, as well as representatives for Kuwait, Sudan, Morocco, Malaysia, Pakistan and Senegal took part in the Riyadh-hosted meeting.
On the sidelines of the event, Safadi met with his Saudi counterpart Adel Jubair and praised Saudi Arabia's efforts in addressing the humanitarian crisis in Yemen, stressing Jordan's support for Yemenis and all efforts aimed at solving the crisis.
Safadi also voiced Amman's support for Riyadh in defending its security, condemning the Houthis' "heinous" missile attacks of Saudi territories in violation of international laws.
Both ministers went over regional developments, mainly endeavours to minimise the repercussions of the US decision recognising Jerusalem as the capital of Israel, and pushing forward political efforts to find a solution to the Palestinian cause based on the two-state solution.
Safadi also met his Egyptian counterpart Sameh Shoukry and discussed with him means to find a political solution to the Palestinian issue and to limit the negative consequences of the US decision on Jerusalem, Petra added.
Both ministers also went over the Syrian crises and other regional and international issues of mutual interest to both countries.
In a separate meeting with UAE Foreign Minister Sheikh Abdullah Bin Zayed, Safadi acquainted the Emirati top diplomat with outcomes of His Majesty King Abdullah's meeting with US Vice President Mike Pence.
Both ministers also went over means to develop bilateral ties and regional crises.
Safadi briefed Djibouti's Foreign Minister Mahamoud Ali Youssouf on the Kingdom's efforts to address the repercussions of the US Jerusalem decision.
Related Articles
Oct 29,2017
AMMAN — Foreign Minister Ayman Safadi and Chairman of the Joint Chief-of-Staff Lt. Gen.
Jan 06,2018
AMMAN — The micro Arab ministerial team tasked with following up on the repercussions of the US decision recognising Jerusalem as the capita
Aug 06,2017
AMMAN — Jordan on Sunday stressed its commitment to supporting the legitimacy in Yemen in a way that guarantees restoring its security and s
Newsletter
Get top stories and blog posts emailed to you each day.